Reportedly, roughly 10 percent of humans are left-handed.
The statistic, while interesting, will seem alarmingly small if you've hung around the Lawrence High baseball team lately. The Lions, it seems, are really taking advantage of defying the odds.
In a chilly doubleheader Tuesday against Leavenworth, four Lion pitchers -- all left-handed -- allowed no earned runs in 12 innings of work. The result was a double-dip sweep, with the Lions winning the first game, 8-4, and the second, 12-0, at Ice Field.
The Lions are now 3-0 overall, and with Tuesday's first game counting in the Sunflower League standings, they're also 1-0 in league play.
"Having five games in a week's time," LHS coach David Petry said, "it's real important that we get off to a good start and get that momentum going into the league schedule."
With southpaw after southpaw ready to shine on the mound, the Lions could be in good shape. Junior David Freeman picked up the win in the first game, pitching five innings, striking out three and allowing no earned runs. He was relieved by senior John Parker, who retired six straight batters to seal the victory.
Leavenworth (0-2) picked up four runs in a horrendous third inning by LHS. The Lions committed four errors that led to four runs on just a single hit in the frame. Lawrence High came out of the inning still ahead 5-4, and Leavenworth didn't score again, making the near-fatal frame a lesson in staying sharp.
"It's not a physical problem," Petry said. "We have the ability to play good defense. We need to work on our mental aspect of the game, and concentrate and be a little more focused."
LHS didn't commit another error the rest of the night, though, and senior Brett McBride and sophomore Daren Parker combined to throw a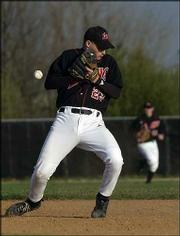 continued from page 1c
three-hit shutout in the nightcap. McBride, who threw two scoreless innings Saturday against Kansas City (Mo.) Pembroke Hill, struck out five and gave up three hits in four shutout innings Tuesday.
"It's still early," McBride said. "We're all trying to find our location. We're still leaving balls up and making mistakes, but for the first few games, we're doing well."
Senior Courtney Hutchinson drilled a leadoff home run and added an RBI single in the first game to pace LHS. Senior Brandon Van Anne singled twice and had five RBIs in the nightcap.
The Lions now take three days off before a Saturday doubleheader at Lee's Summit (Mo.) North.
"We're 3-0, and we've got two more on Saturday," Petry said. "I think if we play the way we're capable of playing, we could end up 5-0 at the end of the first week of the season. That's going to give us a lot of confidence going into league."
Copyright 2018 The Lawrence Journal-World. All rights reserved. This material may not be published, broadcast, rewritten or redistributed. We strive to uphold our values for every story published.