Free State's Travis Blankenship didn't get his first career start in Tuesday's home-opener against Kansas City (Mo.) Pembroke Hill.
The sophomore right-hander also didn't earn his first varsity victory, even though timely Firebird hits and a handful of Raider miscues easily helped Free State senior starter Josh Moreno gain his first win in the Firebirds' 9-1 triumph at FSHS.
The big thing Blankenship gained was confidence, striking out seven Pembroke batters in three innings.
Junior Max Ellenbecker pitched a scoreless seventh to end the game.
"I just tried to throw strikes," said Blankenship, whose brother, Tyler, is a senior pitcher/infielder for the Firebirds.
The strategy worked, because the Raiders seemed quite flustered.
Despite taking a 1-0 lead into the second inning, Pembroke fell apart defensively when the Raiders' committed six errors.
Pembroke also walked in two runs as Free State (2-0) scored its runs in the third through sixth innings.
"We weren't quite in synch offensively," Free State coach Mike Hill said. "Defensively, we were pretty sound, and I think all three of our pitchers did a really good job, especially considering that none of them had much varsity experience.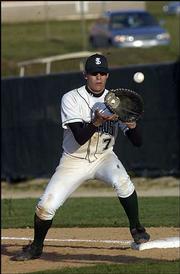 "I'm not worried about our offense though, I think that it will be explosive this year. We just were a bit off today."
Ryne Price's fifth-inning at-bat was a good example.
Free State had already had taken a 5-1 lead when Price came to the plate with the bases loaded. The senior nearly popped a grand slam to right, but his 350-foot shot drifted just a few feet in foul territory.
"That was an incredible bomb, but the thing I was most impressed with was that he walked," said Hill of his senior, who worked the count and got another run home.
"That just shows the patience he has, and is going to have to have this year because everyone has the target on his back."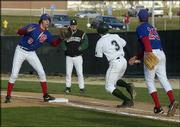 Price's younger brother, Robby, had the best day of any Firebird. The sophomore shortstop went 3-for-4 with two RBIs, while Brett Lisher went 2-for-3 with two RBIs.
Free State, which has averaged 9.5 runs in its first two games, will travel to Olathe Northwest today for a 5:30 p.m. game.
Copyright 2018 The Lawrence Journal-World. All rights reserved. This material may not be published, broadcast, rewritten or redistributed. We strive to uphold our values for every story published.