It seems to defy possibility: a three-story, 76-ton, 114-year-old house rolling down one of Lawrence's steepest hills and dropping onto a new location.
It happened Wednesday near Kansas University, and dozens of onlookers -- some just curious, some with months of work invested in the project -- turned out to watch.
"I'm really just here for the surrealism of it. It's a tremendous surrealist event in any town when they move a house," said Matt Kirby, of Baldwin. "How often do you see that?"
The house -- formerly at 1309 Ohio, now at 1033 Ky. -- had been slated for demolition by the KU Endowment Association to clear space for a new scholarship hall. But an independent student-housing cooperative, the University of Kansas Student Housing Assn., wanted more space and didn't want to see the house destroyed, so KU donated it.
After months of delays, the house hit the streets shortly before 10 a.m. Crews with a semitruck and two wreckers pulled it off the lot and onto eastbound 13th Street, which drops precariously toward downtown.
As the home turned sharply off the lot onto the street, it snapped a few tree limbs and came close to utility lines. Onlookers pressed their hands to their mouths when one of the wreckers that was keeping the house from sliding downhill tipped to the side momentarily.
"I'm amazed that the structure of the house can take all of this," said Sarah Shik, who lives next door to the house's new site.
Clifford Tessendorf of Wamego-based Valley Moving sat in the truck's cab as the home trailed behind him down the steep incline on 13th Street. He said he wasn't driving in the strict sense of the term, only steering and riding the brake as the wreckers let him down.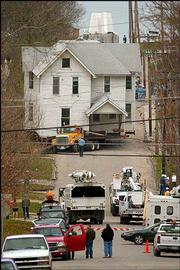 "That's probably about the worst hill we've come off with a house that big," said Tessendorf, who's been moving homes for 30 years.
The house went down 13th to Tennessee Street, then north to 11th Street, east to Kentucky Street, and a quarter-block north. In all, it went 0.4 miles in roughly 5.5 hours.
"You take your time and don't hurry, 'cause if you hurry, something goes wrong," Tessendorf said.
The total tab from the move was about $100,000, $35,000 of it to compensate Westar Energy, which raised and temporarily disconnected power lines along the route. The co-op took out a loan on one of its properties, Sunflower House, to pay for the move.
Greg Seibel, a Sunflower House resident who coordinated the move, followed along the route with a camcorder. The home arrived at its new location with minor damage to siding and shingles, but he expected to see some cracks in the plaster inside.
"All in all, not too bad," Seibel said. "The hardest part is over."
Any historic-preservation enthusiasts who want to help the co-op with what Seibel called unexpected utility costs can contact Carol von Tersch, president of the Lawrence Preservation Alliance, at 842-5030.
Copyright 2017 The Lawrence Journal-World. All rights reserved. This material may not be published, broadcast, rewritten or redistributed. We strive to uphold our values for every story published.