High school seniors have a lot on their minds this time of year. If they're lucky, college-bound students know what school they'll attend next year.
At many universities, incoming freshmen have to make another decision: whether or not to join a fraternity or sorority.
For some, greek life may seem unappealing.
"People that go to sororities have a certain attitude," said Caitlin Donnelly, Free State High School junior. "They would all be the same, have the same thoughts."
And for some, going greek just didn't work out.
"It didn't live up to my expectations," said Jessika Robbins, Kansas University senior and former member of the greek community. "I thought everybody in the house was going to be friends, and I thought it was going to be like what you see in movies, and it wasn't."
But for some, greek life can enhance and improve time spent in college.
"I cannot even fathom what KU and my college experience would be like if I had not joined a sorority," said Susan Henry, vice president for Panhellenic recruitment at Kansas University. "What women don't know is that they will not just make friends, they will meet future best friends, bridesmaids, and most of all, sisters."
Said Andrew Wymore, Interfraternity Council vice president for recruitment, "I joined a fraternity for the opportunity to become a leader at KU. I've enjoyed my experience, and I wouldn't change a thing."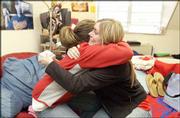 From the viewpoint of an incoming freshman, meeting new people during rush is an added bonus.
"I think starting a new school and being a little fish in a big pond is really hard, and doing anything that helps you spot some familiar faces helps a lot," said Jenny Schwering, Free State senior.
Henry recommended that those interested in joining a sorority attend KU's greek informational meeting at the new student orientation in the summer.
"The new student orientation is really good to go to (to) answer questions about greek life," she said.
Another way of finding out more about the greek community is by going on a tour of greek chapters.
The chart below compares the cost of greek living room and board with residence hall room and board for Kansas University:Sorority costsAverage live-in dues: $4,888New member dues (paid only freshman year): $1,742. Freshmen live in residence halls and also pay that fee.Fraternity costsMembers usually move into the fraternity as freshmen. The first year is the most expensive, with an average cost of $4,500.Residence hallsFee range: $4,800-$6,900 (varies with meal plan and residence hall choice)Source: KU Greek Life; KU Department of Student Housing
"The tours give an opportunity to see what the living facility is like, how the house looks on the inside and outside," Henry said.
Men interested in joining the KU greek system can begin the recruitment process by completing an interest card or calling the Interfraternity Council at 864-3559.
"Joining a fraternity seems like it'd be a lot of fun, as long as it didn't interfere too much with my education or extracurricular activities," said Caleb Powers, Free State senior. "I'd have to get along with most the guys really well."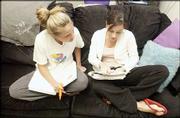 Those interested in going greek should keep and open mind and find out more information about what a greek community is like.
"Is greek life for everyone? No, but people may be surprised at the variety of things a sorority has to offer," Henry said.
Copyright 2017 The Lawrence Journal-World. All rights reserved. This material may not be published, broadcast, rewritten or redistributed. We strive to uphold our values for every story published.