Dallas — The scene at the Wilds of Africa exhibit was wilder than anything most zookeepers have witnessed in the jungle: A 340-pound gorilla breaks out of its enclosure and goes on a 40-minute rampage through a forest, snatching up a toddler with his teeth and attacking three other people before being shot to death by officers.
Federal regulators are investigating the Dallas Zoo over Thursday's escape, zoo officials are trying to figure out how the gorilla managed to break out, and animal welfare advocates are questioning whether officers had to kill the beast.
"Clearly, this is a zoo's worst nightmare," said Dan Wharton, director of the Central Park Zoo and chairman of the American Zoo and Aquarium Assn.'s Gorilla Species Survival Plan.
The 13-year-old Jabari broke out of the enclosure as several families and children took in the jungle exhibit Thursday afternoon. After escaping, the gorilla darted in and out of the exhibit's thick bamboo and trees and attacked four people, including two women and two children.
Police were forced to evacuate an estimated 300 people from the zoo compound, while some guests hid inside a restaurant and the monorail surrounding the Wilds of Africa exhibit.
Exactly how the gorilla got loose was unclear. Some youths had reportedly teased Jabari shortly before he escaped, but it was not known if that was a factor.
Zoo employees searched Friday for broken tree limbs, footprints, fur -- anything that could provide a clue to how Jabari escaped. They found nothing.
"We're just beginning to wonder whether this is some kind of superhuman feat of physical prowess," said Rich Buickerood, who has directed the Dallas Zoo for 12 years. "We just can't believe it."
Buickerood believes the gorilla somehow managed to scale the enclosure's 15-foot concave wall, but experts doubt that could have happened.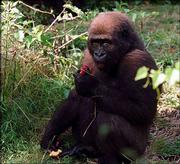 "Virtually anybody who's worked with great apes has not been able to compute any way that a gorilla could get up a 15-foot wall," Wharton said. "When you boil it all down, at some level, one has to assume human error."
Past escapes were caused by human error, such as leaving doors open, said Johnpaul Jones, who designed the Dallas exhibit.
Only two gorillas, including one in Boston last year, have escaped in the past five years in North America, said Wharton, who coordinates the records for the 380 gorillas on the continent.
The injured included a mother and her toddler son. Rivers Noah, 3, was in fair condition at Children's Medical Center with multiple bites to his head and chest. His mother, Keisha Heard, 26, was bitten on the legs.
"I was like, 'This is not happening, this is so unreal,' because he just came out of nowhere," Heard said Friday on NBC's "Today" show. "He has my son in his mouth, he's attacking him, and I tried to help him and there wasn't really anything that I could do. ... He slings me back across the concrete area where we are."
Heard was treated and released along with a woman who suffered arm injuries. A child was treated at the scene.
Copyright 2018 The Associated Press. All rights reserved. This material may not be published, broadcast, rewritten or redistributed. We strive to uphold our values for every story published.