Stacking his mountain of green chips, Aaron Salter forced his opponent to utter the magic words of poker.
"All-in," Blake Shuert begrudgingly proclaimed from behind his own short stack of chips.
Shuert flipped over a six and a two; his fate at the table was quickly decided.
Salter made an ace-high straight and walked away with a victory.
"Toward the end there I got some good cards and that's just how it goes," Salter said after being congratulated by his opponent. "This is great. ... I come almost every time I can."
It's a scene repeated five nights a week, two sessions a night at five Lawrence bars and restaurants.
Leo Magsalin is the man behind the green tables, cards and stacks of chips fueling the poker craze in Lawrence.
"Texas Hold'em has been around forever, but it's just blowing up," he said.
Casino atmosphere
Multimillion-dollar tournaments, high-stakes players and games in lavish casino settings are weekly staples on at least three major television networks. ESPN, The Travel Channel and Bravo are among those capitalizing on the game's popularity.
And while Lawrence is far from the glitz and glitter of the high-roller games in Las Vegas or Atlantic City, Magsalin said he worked to ensure the scene here re-creates the intensity and atmosphere of the big-city action.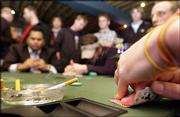 "We just want the average Joe coming out to play and feel like (the pros on TV)," he said.
On poker nights, the Lawrence taverns that serve as the venues for Magsalin's game take on the feel of a casino. There are the clouds of smoke, cocktails, stacks of chips and grim-faced players hunkered down around tables brought in for the occasion.
Magsalin is founder and CEO of ThePokerPub, a Lawrence-based business responsible for the no-limit Texas Hold'em tournaments that began Feb. 15.
ThePokerPub's 14 employees supervise the action and supply the poker tables, chips, playing cards and prizes. It costs nothing for players to participate; they just show up, sign up, sit down and play.
Prizes, pride
While no money is wagered, the 88 players per session still have something at stake. In addition to pride and the thrill of competition, each tournament winner gets prizes ranging from a gift certificate to a DVD player -- and bragging rights, of course.
The eight players who bet and bluff their way to the final table earn a spot in the tournament of champions, played every other Sunday at the Pool Room. The winner of that event gets a three-day, two-night vacation with hotel and airfare covered by ThePokerPub.
Forty-year-old Bryan Sharp of Topeka won the ThePokerPub's first champions tournament Feb. 29.
He said he was planning a trip to Las Vegas, but had a dilemma.
"Everybody wants to go with me, so now I've got to decide who gets to go," said Sharp, who won it all with a pair of sixes on the final hand.
Legal 'gambling'
Magsalin said he made sure ThePokerPub would avoid trouble for what some may perceive as gambling.
"The reason this is legal is because there's no entry fee. If there was an entry fee, if you charged a cover or anything like that, the state will look down on you and they'll think it's gambling," Magsalin said. "We aren't gambling. We're just bringing a bunch of people around, letting them come together and play cards."
Games begin at 7 p.m. and 10 p.m. each day but Sunday, when they are at 5 p.m. and 8:30 p.m. Here's the schedule:Sunday -- The Pool Room, 925 IowaMonday -- Stu's Midtown Tavern, 925 IowaTuesday -- Captain Ribman's Meat Market, 811 N.H.Wednesday -- The Last Call, 729 N.H.Thursday -- Kaspar's Bar and Grill, 3115 W. Sixth St.Friday -- Jack Flanagan's Bar and Grill, 806 W. 24th St.Source: www.thepokerpub.com
Lawrence Police Sgt. Mike Pattrick was not aware of ThePokerPub but said state laws were clear on what constitutes betting and gambling.
"Just because people are playing cards doesn't make it against the law," Pattrick said. "There has to be some kind of gambling associated with it to make it against the law."
Full house
With more than 100 people filling the poker rooms each night, operators of the bars and restaurants that play host to the games are pleased.
"We couldn't be happier with the results," said Meat Market partner Charlie Davis as his wait staff scrambled to serve drinks to dozens of people lined up at the bar. "It's been really exciting. It's brought a whole new group of people in here. I'd say about 60 to 70 percent haven't been in before, so that's good."
Businesses pay ThePokerPub a fee per table and reap the benefits of selling drinks and food to the throngs attracted to a night of free poker.
Magsalin said he viewed his business as another entertainment event designed to draw a crowd to a nightclub. He expects to have ThePokerPub operating seven nights a week in Lawrence in the next couple of weeks, and to expand into Kansas City and Topeka by mid-April.
"It's one of the fastest-growing businesses I've ever seen in my entire life. It's amazing. I've been overwhelmed with it," he said. "But I just love it because I'm meeting so many new people, bringing everyone together. Everybody makes new friends when they come out and play."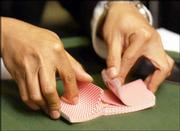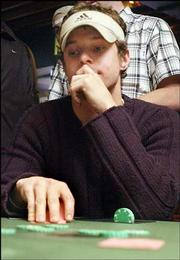 In Texas Hold'em, players get two down cards and five community cards, which are face-up in the middle of the table. A player's hand is determined by using the best five of those seven cards in any combination. The best hand wins the pot. There are four rounds of betting.
Copyright 2017 The Lawrence Journal-World. All rights reserved. This material may not be published, broadcast, rewritten or redistributed. We strive to uphold our values for every story published.