Meredithe McCormick's family room is a study in crimson and blue.
McCormick, a diehard Jayhawk fan known for wearing emblazoned blue and red ensembles with mascot earrings on game days, has been collecting Kansas University memorabilia since she was a little girl.
The collection will be featured this week on Sunflower Broadband's "Home & Away."
The colorful array of spirited knickknacks and artwork show a lifetime's worth of devotion to KU. The knickknacks also are a testament to the ingenuity of the licensing industry that seems to find new ways to make in the image and likeness of the mythical bird. Stuffed animals, cement doorstops, ceramic whiskey decanters, lamps, a push-buttom phone, a serving basket for chips, plates, latte cups and birdhouses are included in McCormick's collection at her southwest Lawrence home.
Adorning the walls are several pieces of Jayhawk art made by local artists, including Vicki Vormehr and Joanne Renfro. McCormick has added her own handiwork to the mix with a needlepoint wall hanging and a burlap fireplace screen with hand-painted mascots through history.
Cathy Hamilton is host of "Home & Away."
A new show airs at 6:30 p.m. each Monday on Sunflower Broadband Channel 6 and repeats at 9 p.m. and 10:30 p.m. The show is also broadcast at 9 p.m. Tuesday-Friday and 9 a.m. Sunday.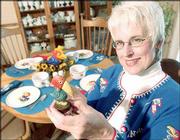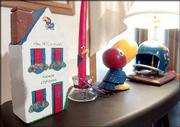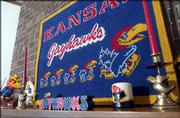 Copyright 2018 The Lawrence Journal-World. All rights reserved. This material may not be published, broadcast, rewritten or redistributed. We strive to uphold our values for every story published.