Brenda Albright is the victim advocate for the Douglas County district attorney's office.
Which, when you step back to think about it, is actually a pretty spiritual job.
"A lot of times I'm the first contact they have with the criminal justice system," said Albright, who has served in this position for four years. "They have no idea what's going to happen, what they need to do, what's going to happen to the bad guy. Depending on what kind of crime it is, we can talk about the different kinds of hearings that are coming. I try to make it as easy as possible.
"I think that I offer comfort in a bad situation, or least I try. When the bad parts are over, I can help people kind of get back on track after they've been victimized."
Albright is a good illustration of how some people are able to integrate their spirituality into their daily jobs, viewing even tasks that have come to seem routine as a way of expressing their faith, and as important acts in the service of God.
That's the focus of "Spirituality@Work," a Lenten study taking place through Easter at Trinity Lutheran Church, 1245 N.H. Participants meet Sunday mornings to examine how God and one's faith can be regularly accessed in the midst of hectic work lives -- and how the jobs people do every day can be experienced as a natural outlet for that inner faith.
The Lenten study is based on the book "Spirituality@Work: 10 Ways to Balance Your Life on the Job" (Loyola Press, 2001) by Gregory F.A. Pierce.
Being a Christian on the job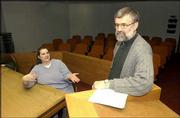 As part of the study, the Rev. Gary Teske, Trinity Lutheran's lead pastor, is visiting different parishioners each week at their workplace -- both as a way to learn more about what they do and to engage them in conversations about how to better incorporate a sense of the spiritual into their jobs.
Teske spent a couple of hours shadowing Albright, a member of his church, Wednesday at the Judicial and Law Enforcement Center, 111 E. 11th St.
"I think he was pretty interested," Albright said.
The idea of spiritual discipline is often understood to mean leaving the workplace and withdrawing from the demands of everyday life, according to Teske.
But a major premise of "Spirituality@Work" is that people don't have to enter the clergy or a religious order to express their faith through their jobs.
Rather, the book's author writes, spirituality really serves people best when it is exercised in the middle of their lives.
"It follows the model of Jesus Christ. Luke in particular speaks (in the Gospels) of Jesus withdrawing into prayer, but a lot of the exercise of his spirituality was being out among people. Most of it is out there in the workday world that he was encountering," Teske said.
An adult forum called "Spirituality@Work" meets at 9:45 a.m. Sundays during Lent at Trinity Lutheran Church, 1245 N.H.The group, led by Dr. Bill Buck and Andrea Parson, focuses on how God can be accessed in the midst of often-hectic daily work lives.This theme is continued at 6:40 p.m. Wednesday discussions at the church, in which the Rev. Gary Teske leads a dialogue on connecting ministry and the workplace as a result of visiting parishioners at their jobs.The Wednesday discussion is preceded by a simple meal at 6 p.m., and then followed by a 7 p.m. Lenten worship service in the chapel.The Lenten study at Trinity Lutheran is based on the book "Spirituality@Work: 10 Ways to Balance Your Life on the Job" (Loyola Press, 2001) by Gregory F.A. Pierce.For more information about the Lenten study, call the church office at 843-4150.
"Martin Luther (the founder of the Lutheran Church) was real big in moving away from the idea that the real God-given vocation is to be a monk or a pastor. He was saying all vocations are callings from God. A carpenter's work is just as holy as that of a pastor or a priest -- you can have someone whose carpentry brings delight and makes the world more comfortable."
The first step in trying to understand your job from a spiritual perspective is to step back and ask yourself some basic questions. What is God accomplishing for the good of the world in this realm of work? Do I have a sense that I am in ministry here? How can I align myself with my understanding of God's will, so that the fruits of my work promote what God wants to be happening?
"A lot of people think the way I'm a Christian on the job is just to witness to others or pray for them. That can be a part of it, but very often that's not appropriate. The real way to be a Christian is to look at what you do, how you do it, and how does it contribute to the good that God wants to happen in the world," Teske said.
"It's the old stuff -- being honest, (having) integrity, treating the customer always as a child of God, keeping that in mind as I deal with that person. If you conclude a company's policy is really unjust and unfair, we exercise our Christian spirituality by working for the correction of that."
Provides comfort, healing
Teske's recent visit to learn about Melissa Boisen's job got the Trinity Lutheran member and Lawrence resident thinking about the spiritual aspects of the tasks she does every day.
On the surface, it's hard to see it. Boisen works out of her home and has no direct contact with customers or co-workers. She works for a company called Tremco that sells sealants and fire-stopping products that keep smoke and flames from spreading inside buildings.
"What I do is I track multimillion-dollar construction jobs (around the United States) on my computer, using a nationwide database, and then I forward them to the regional reps across the country. I do it all at home," Boisen said.
As she began to look closer at what she does for a living, she realized that, in a larger sense, she plays an important role in promoting a product that potentially saves lives during a fire.
Her job is also a welcome change from the stress and frustrations of serving as a child advocate and lobbyist in the Statehouse in Topeka, which she did for five years.
Boisen, who has a doctorate in developmental and child psychology from Kansas University, was also the director of Court Appointed Special Advocates in Lawrence for about 2 1/2 years.
"This (working for Tremco) is totally not in my arena. It's nothing I would have ever dreamed of. But what Pastor Teske and I figured out is that this job provides comforting, soothing and healing for me, because I can do it and be home with my family, too," Boisen said.
"What I believe and what Pastor Gary believes is that God is restoring me and my strength, and I think (God) has every intention of reconnecting me with my passion again, which is child advocacy."
The book "Spirituality@Work: 10 Ways to Balance Your Life on the Job" (Loyola Press, 2001) by Gregory F.A. Pierce offers the following suggestions for ways to integrate a sense of spirituality into your work day:¢ Surround yourself with 'sacred objects': Have something at your workplace that reminds you of your attachment to God and what that means in the world, such as a family picture, or an inspiring book.¢ Giving thanks and congratulations: Get outside of yourself by paying compliments to others, as opposed to seeing them as competitors; give recognition to those who need it; thank yourself for your own good work.¢ Assuring quality: Find a way to remind yourself that the quality of your work matters, both in day-to-day satisfaction for customers and in the cosmic effort to make creation an ever-better endeavor.¢ Building support and community: Go out of your way to welcome the newest person in your workplace; do the same for an existing co-worker who may feel threatened or isolated.¢ Deciding what is "enough" -- and sticking to it: Each time you are offered a promotion, a raise or a new job, ask for time to consider the offer and then pray over whether or not you want it and the price you might have to pay for taking it.
Copyright 2018 The Lawrence Journal-World. All rights reserved. This material may not be published, broadcast, rewritten or redistributed. We strive to uphold our values for every story published.