Investigators on Friday were trying to hunt down a serial arsonist suspected of setting fires at two Lawrence businesses, lighting books ablaze in a Kansas University library and burning a dozen buildings in Johnson County since Saturday.
With the revelation Friday that two more Lawrence fires had been connected to the string of arsons in the past week, the total of suspicious fires stood at 15.
"I think we've just been extremely fortunate that they've been, in most cases, unoccupied buildings," said Mark Bradford, deputy chief of Lawrence-Douglas County Fire & Medical. "Our goal is to quickly try to apprehend the individual or individuals before somebody gets seriously hurt, or before death occurs."
Bradford said Friday morning that two Lawrence fires earlier this week had been linked to the arsonist: one at 4:12 a.m. Wednesday at the dental office of Keith Jones, 647 Country Club Terrace, and another at 6:33 a.m. Wednesday at Clinton Parkway Nursery & Garden Store, 4900 Clinton Parkway.
The fires caused less than $1,500 in damage at each business, but could have been much worse if people hadn't spotted them quickly, authorities said. An employee of a nearby hotel noticed the fire at the dental office, Bradford said; Gene Bean, a 64-year-old nursery employee, discovered the Clinton Parkway fire by chance when he decided to come to work early because he couldn't sleep.
When he arrived at the nursery, he smelled smoke, then noticed that the wooden frame around a metal door to the garden store was ablaze. He opened it, ran inside through thick smoke to call 911, then used a nearby hose to hold the fire at bay until firefighters arrived.
A firefighter told Bean he got there just in time, Bean said Friday.
"He said if it had been another hour, it probably would have been gone," Bean said of the business.
Bradford said similar compounds were used to start both fires Wednesday -- a compound similar to that used in several of the Johnson County arsons and at the KU library. He declined to elaborate or speculate about the arsonist's motivation.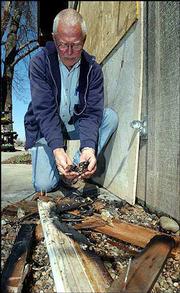 The most devastating fire linked to the arsonist so far caused an estimated $4 million in damage to a retirement center under construction in Olathe, officials said. It also left a firefighter slightly injured by falling debris. The other fires have caused a total of about $500,000 in damage.
As of Friday night, investigators were following about 60 leads.
Spotted in Lawrence
The best lead so far came from the fire Monday at Watson Library, where someone remembered seeing a man around the second floor about the same time the fire was reported at 10:34 p.m.
The KU Public Safety Office released a composite sketch of the man. Though authorities say he is not a suspect, they want to talk to him. He is described as white, 27 to 30 years old, with red hair. He is about 5 feet 7 inches tall, has a heavy build, and was seen wearing a black or dark jacket.
The man had not been spotted at other fires, said Larry Scott, an agent with the federal bureau of Alcohol, Tobacco, Firearms and Explosives. He declined to say whether more people were suspected in the string of fires.
Besides seeking the man, authorities are asking for the public's vigilance to help them catch the criminal in action.
"The public is a great advantage. They're our eyes and ears. We consider them one of our team members," Scott said.
Douglas County residents with information about the crimes are asked to call the CrimeStoppers hot line at 843-TIPS. The bureau is offering a reward of as much as $5,000 for information leading to an arrest. The Kansas Arson Hotline is offering an additional reward of as much as $1,000.
These 15 fires, all since March 6, are thought to be the work of a serial arsonist:Olathe¢ 805 E. Santa Fe -- Quick Cash¢ 18754 W. 115th Terrace -- Home pending contract for sale¢ 1855 N. Ridgeview -- Apartment complex clubhouse (rest room)¢ 19656 W. 105th St. -- Home under construction¢ 16150 S. Bradley -- Home under construction¢ 21347 W. 120th St. -- Home under construction¢ 16100 W. 133rd St. -- Brougham Senior Residences under construction¢ 11599 S. Ridgeview -- Security Savings BankOverland Park¢ 137th and Rosehill -- Apartment complex¢ 3613 W. 155th St. -- Home under constructionLenexa¢ 98th and Woodland -- Home under construction¢ 15525 W. 87th St. Parkway -- Capitol Federal Savings and LoanLawrence¢ Watson Library, 1425 Jayhawk Boulevard¢ Dental office of Keith Jones, 647 Country Club Terrace¢ Clinton Parkway Nursery & Garden Store, 4900 Clinton ParkwaySource: Bureau of Alcohol, Tobacco, Firearms and Explosives
Copyright 2018 The Lawrence Journal-World. All rights reserved. This material may not be published, broadcast, rewritten or redistributed. We strive to uphold our values for every story published.