Spin Boldak, Afghanistan — The Afghan border chief gestures toward a fresh spray of bullet holes across his pickup truck, then points toward the place he says the Taliban attackers came from: Pakistan.
Despite a crackdown involving tens of thousands of troops and a pledge by President Gen. Pervez Musharraf to do all he can in the hunt for Osama bin Laden, Afghans say a steady stream of Taliban and al-Qaida fugitives are finding a safe haven on Pakistan's side of the 2,000-mile border.
"See the trees? They started from that border post," said Palawan, the shaven-headed Afghan border chief. Afterward, "the vehicles came from there, and took the Taliban away."
Sealing the border is vital if a promised spring offensive by U.S. troops is to succeed in its main goal: crushing Taliban resistance and capturing al-Qaida leaders like bin Laden and his deputy, Ayman al-Zawahri, both believed to be in hiding somewhere along the porous frontier.
The U.S. military has described the strategy as a "hammer and anvil" approach, with Pakistani troops moving into semiautonomous tribal areas on their side of the border, and Afghans and American forces sweeping the forbidding terrain on the other.
But Palawan and other Afghan security officials say they aren't convinced, insisting Pakistan's security and intelligence services are rife with Taliban and al-Qaida sympathizers.
"They are living there, they are coming to do the terror attacks, and they are going back," Palawan said, gun at his side as he drives along the barren border.
Pakistani officials scoff at the charges and say they are doing everything they can to arrest Taliban and al-Qaida fugitives.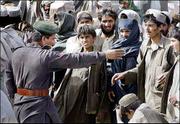 "This is nonsense," Pakistan Information Minister Sheikh Rashid Ahmed said in Islamabad. "We are fighting against terrorists, not sheltering them."
Pakistan can point to an impressive record: It has arrested more than 500 al-Qaida suspects since the 9-11 attacks and it recently deployed 70,000 troops to the tribal regions of Waziristan.
But Palawan is not alone in his suspicions, and Afghans have not forgotten the strong support Pakistan gave to the former Taliban regime before Musharraf abandoned them in favor of the United States just after the attacks on New York and Washington. Pakistan supplied money, arms and shelter to Islamic guerrillas, including the Taliban, during the guerrilla campaign in the 1980s against Afghanistan's then-Soviet occupiers.
"Without Pakistan, the Taliban would be finished. Without the Taliban, al-Qaida would be finished," Gen. Khan Mohammed, regional commander of the Afghan militia, said in Kandahar, capital of the southern province that includes Spin Boldak.
Afghan intelligence officials say they have intercepted phone conversations from Taliban commanders in Quetta, the largest Pakistani city near the southern border.
Copyright 2018 The Associated Press. All rights reserved. This material may not be published, broadcast, rewritten or redistributed. We strive to uphold our values for every story published.