There's no way that Kansas University baseball players Matt Baty and J.C. Sibley knew of the magic freshman David Padgett had just made miles away in Columbia, Mo., but that's the exact moment they helped the baseball Jayhawks accomplish a monumental mark of their own.
Trailing 7-6 with one out and one on in the bottom of the eighth inning, Sibley and Baty connected on consecutive hits to help Kansas rally for an 8-7 victory over Wisconsin-Milwaukee on Sunday at Hoglund Ballpark. The Jayhawks (14-8-1) never had rallied for a win when they trailed after the seventh inning this season.
"If we're going to accomplish our goals, were going to have make that something that happens on a routine basis," KU coach Ritch Price said of the late-inning heroics. "That's what good clubs do: They find ways to win games late."
The eighth-inning rally also added a boost to Sibley's confidence, he said. The junior-college transfer missed out on a similar situation in Saturday's 9-7 loss to UW-Milwaukee.
"He (Baty) said to me before the eighth inning, before we came up: 'J.C., this is our chance to redeem ourselves. Let's go up and do it,'" said Sibley, whose foul-out to first in the ninth inning Saturday ended KU's rally.
"I really wanted my chance to win the game, but after I made that last out I was really down, really kicking myself," Sibley said. "Today when I had a chance to come through, I just tried to clutch up and do the best I could."
Sibley's double to right scored pinch runner Derek Bailey to tie the game at 7. Sibley scored the game-winner on Baty's single to left.
Another clutch decision by Sibley, a junior center fielder, in the fifth inning gave KU its first lead of the day.
"Coach Price told me before: 'One out and a guy at first base, I'm going to give you a sac bunt, but if you see that third baseman charging, go ahead pull back and slash,'" Sibley said.
That's exactly what he did, slapping a two-run homer over the left-field wall to give Kansas a 5-4 advantage.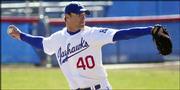 "Saw the third baseman charging, and he gave me a good pitch to hit. And right when I hit it, it felt good off the bat," said Sibley, who went 2-for-4 Sunday with two runs and three RBIs.
After Saturday's loss snapped KU's six-game winning streak, UW-Milwaukee carried over its good luck into the first inning Sunday.
Two seemingly routine drives to the outfield ended up in the Oliver Residence Hall parking lot, lifting the Panthers to a 3-0 lead.
Despite the sluggish start in the first half of the inning, the Jayhawks kept their trend of scoring quickly in the bottom half, when they also plated three runs.
Baty again reached safely in his leadoff spot and brought his consecutive games streak of starting the game on base to 10.
UW-Milwaukee scored a run in the top of the fifth to take a brief lead, before Kansas broke it in the bottom half of the inning. The Panthers then added three more in the top of the seventh to go ahead 7-6.
"I think it's good to build on a close game like that," said Baty, who added two hits with a run and an RBI, "to have to come back from behind, because we're going to have to come back from behind in the Big 12."
Jayhawk Matt Tribble extended his hitting streak to 14 straight games when he singled to right with an RBI in the first inning.
Kansas' next game will be a make-up date against Tabor Wednesday at 3 p.m. at Hoglund.
Copyright 2018 The Lawrence Journal-World. All rights reserved. This material may not be published, broadcast, rewritten or redistributed. We strive to uphold our values for every story published.