Fort Worth, Texas — Heavy rain and strong wind swept across Texas and Oklahoma on Thursday, downing power lines, flipping mobile homes and uprooting trees.
Tornado and flood watches were issued for dozens of counties, and a traffic death was blamed on the storm in Oklahoma.
Most of the damage reported in several Texas counties was caused by straight-line winds, but some brief tornado touchdowns were reported, National Weather Service meteorologist Alan Moller said.
The fast-moving line of thunderstorms stretched about 300 miles from central Oklahoma to central Texas on Thursday afternoon, and was expected to continue east into Louisiana and Arkansas.
"There's a further threat of tornadoes over in that area, especially if isolated storms develop," Moller said.
In northeastern Oklahoma, a motorist was killed when the vehicle hydroplaned and crossed the median on the Cimarron Turnpike into the path of a tractor-trailer. The truck driver wasn't hurt, police reported.
In Texas, a small tornado touched down in Jones County after the storm hit shortly before noon. Gusts of up to 80 mph ripped off store awnings, flipped mobile homes and knocked down electrical poles.
Tony Pilkington, his wife and his 3-year-old daughter were eating lunch at a pizza shop in Breckenridge, about 90 miles west of Fort Worth, when high gusts knocked out electricity.
"Signs started flying outside, and the next thing I know, you couldn't see anything," he said. "It was scary being there with my daughter."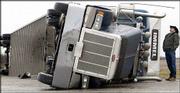 High wind briefly halted air traffic at Dallas-Fort Worth International Airport and Dallas' Love Field. Both airports reported delays.
Two tractor-trailer rigs were blown over on Interstate 20 just west of Abilene, injuring one person and closing lanes for about an hour.
Winds of 70 to 80 mph hit southwestern Oklahoma, where two small airplanes and a pontoon boat were damaged at an airport. The gusts also damaged a hangar.
A tornado was spotted touching down 20 miles south of Lawton, the weather service said.
High winds blew off a concession stand roof at Cameron University in Lawton, hurling it into a parking lot. There were no major injuries, school spokesman Keith Mitchell said.
The storms dumped more than 3 inches of rain in parts of central Oklahoma, flooding an apartment complex in Oklahoma City and closing streets.
Copyright 2018 The Associated Press. All rights reserved. This material may not be published, broadcast, rewritten or redistributed. We strive to uphold our values for every story published.