Topeka — Senators tentatively approved a bill Wednesday allowing construction of private prisons in Kansas, a move supporters called a stopgap solution to crowding in state correctional facilities.
The bill, advanced to final action on voice vote, would allow private prisons to be regulated and licensed by the Department of Corrections. The state would contract to place inmates in such private prisons for no more than 90 percent of the cost to house inmates in state operated facilities.
Sen. Derek Schmidt, R-Independence, said the bill should be viewed as part of the state's corrections plan when prison populations are high and state revenues are low.
"This gives the state an additional option when dealing with prison capacity," Schmidt said.
Kansas' prisons were at 99.3 percent of capacity at the end of February, with 9,182 inmates held in space designed for 9,244, according to the Department of Corrections. Schmidt said Kansas has contracted with Texas to house 96 prisoners, similar to a previous contract with Colorado.
Having a private prison in Kansas would reduce the costs of transporting inmates to other states and would keep them closer to their families while they serve their sentences, he added.
Sen. Henry Helgerson, D-Wichita, supports the proposal but said legislators must come to grips with corrections issues.
"We should develop a plan," he said. "But in the absence of a plan we make decisions, incremental decisions."
Last year, a legislative study committee recommended that the state build an addition at the Ed Dorado prison. Schmidt said that would only buy the state a few years before crowding resumed.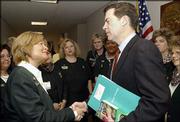 The bill would require voters in a county where a private prison is proposed to approve its construction. Currently, residents in Yates Center have expressed interest in attracting a prison as economic development.
Senators amended the bill during Wednesday's debate to require the secretary of corrections to first seek space in county jails before contracting with the private prisons.
---
Private prisons is Substitute for SB 275.
On the Net:
Kansas Legislature: http://www.kslegislature.org
Department of Corrections: http://www.ink.org/public/kdoc
Copyright 2018 The Associated Press. All rights reserved. This material may not be published, broadcast, rewritten or redistributed. We strive to uphold our values for every story published.