Portland, Ore. — A new front in the battle about same-sex marriage opened Wednesday in Portland, where county officials issued hundreds of licenses to gay couples after deciding that Oregon law allowed the unions.
New York's attorney general, meanwhile, said gay weddings in that state were illegal, even though he personally would like to see the law changed. His opinion didn't deter a second mayor in the state from announcing not only that he would conduct gay marriages, but that he intends to marry his own same-sex partner.
Mayors and county officials in four states have allowed gay marriages, including thousands in San Francisco, which started the wedding march Feb. 12. The marriages have met with fierce opposition and calls for a constitutional amendment banning the unions.
In Portland, gay couples had begun lining up for marriage licenses late Tuesday, after Multnomah County officials decided it would be unconstitutional to deny them.
Officials issued hundreds of licenses Wednesday to same-sex couples, many of whom quickly exchanged vows in ceremonies organized by a gay-rights group at a Portland hotel and a city auditorium.
"We're just here to make it official. We're here to make honest men of each other," said Paul Harris, 55, who married James Griener, 59.
County spokeswoman Stephanie Soden said officials weren't counting same-sex marriage licenses, but estimated that at least 90 percent of the 422 licenses issued Wednesday went to gay couples.
Controversy in New York
In New York, where one mayor has conducted 25 same-sex marriages in the past week, Atty. Gen. Eliot Spitzer issued an opinion saying state law bars such unions. But he added that it is the courts' job to determine whether the law is constitutional.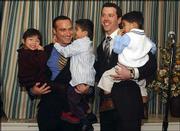 "I personally would like to see the law changed, but must respect the law as it now stands," Spitzer said in a statement.
Mayor pleads not guilty
Despite Spitzer's opinion, the mayor of New Paltz, a college town about 75 miles north of Manhattan, said he would conduct an additional 10 to 20 marriages this weekend.
The Ulster County district attorney has charged Mayor Jason West with 19 criminal counts for some of the marriages he already has conducted, but the prosecutor lacks the authority to stop West from performing more weddings.
"The constitution is clear that I cannot discriminate in who I marry," said the 26-year-old West. He added that he had 1,200 gay couples on a waiting list.
Wednesday evening, West appeared in town court and pleaded not guilty. Outside the courthouse about 200 supporters gave West a hero's welcome, cheering and singing as a jazz trio played "The Battle Hymn of the Republic."
"I think that he is a patriot and I think he's a civil rights leader," said Mike Katz, a student at the State University at New Paltz. "We're making history here."
Village Trustee Robert Hebel said he intended to seek a temporary restraining order Thursday to stop West from marrying same-sex couples.
Mayor John Shields of Nyack, about 20 miles north of Manhattan, said Wednesday that he would begin conducting weddings as early as this week. Shields said he planned to seek a license himself to marry his same-sex partner.
"What do you do when you're faced with injustice?" Shields said.
Copyright 2018 The Associated Press. All rights reserved. This material may not be published, broadcast, rewritten or redistributed. We strive to uphold our values for every story published.