Caracas, Venezuela — Protests intensified across Venezuela on Tuesday after the elections council ruled that government opponents lacked enough signatures to force a recall referendum against President Hugo Chavez.
Television news footage showed troops firing at anti-Chavez protesters, who fought back with rocks and Molotov cocktails in Caracas.
Rioting, which began earlier Tuesday as the opposition anticipated the ruling, was also reported in several of Venezuela's most important cities in the hours after the council's decision.
Chavez opponents said they submitted more than 3.4 million signatures. Some 2.4 million are needed for a recall election.
But council President Francisco Carrasquero announced Tuesday evening that just 1.83 million signatures were valid. An additional 876,016 signatures may be valid if citizens confirm that they indeed signed the petition, Carrasquero said.
Many opposition leaders had said they would not accept a decision requiring voters to confirm their signatures. The council said that voters would have between March 18 and March 22 to confirm their signatures.
Venezuela's opposition claims that such a monumental task, involving hundreds of thousands of citizens, would postpone the referendum or derail it entirely.
Opposition lawmaker Julio Borges called for more protests.
Besides Caracas, the capital, protests hit Merida, Puerto La Cruz, Maracay, San Felipe, the industrial centers of Valencia and Barquisimeto and the western oil city of Maracaibo.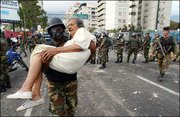 National guard troops in armored personnel carriers rolled through several of the cities as demonstrators burned tires and hurled rocks and gasoline bombs at soldiers. Sporadic gunfire was heard for a second straight night in Caracas.
Chavez's foes have been blocking traffic throughout Caracas since Friday to protest what they view as a government plot to derail the referendum -- their last chance of legally ousting Chavez before the next elections in 2006.
Copyright 2017 The Associated Press. All rights reserved. This material may not be published, broadcast, rewritten or redistributed. We strive to uphold our values for every story published.