Debby Francisco thought she was taking her second-graders to an assembly to celebrate the 100th birthday of Dr. Seuss.
It turns out the party was for her.
Francisco, who teaches at Deerfield School, 101 Lawrence Ave., was named Elementary Teacher of the Year on Tuesday by the Lawrence school district.
"I had no idea," said Francisco, clad in a giant hat and a Dr. Seuss shirt. "I've never fainted, but I was ready to then. I was totally swept off my feet."
A few minutes later, Supt. Randy Weseman and an entourage of district administrators barged into the classroom of Lanell Finneran, a special education teacher in a therapeutic classroom at Bert Nash Community Mental Health Center, 200 Maine, and presented her with the district's Secondary Teacher of the Year award.
"I didn't know what was going on," Finneran said. "I get that appreciation daily from the kids and parents, but this is amazing. I didn't think special education teachers got included in that group of special teachers."
A committee of former winners selected the teachers from a pool of nominees. Their names will be forwarded to the Kansas State Department of Education for the Kansas Teacher of the Year program.
Francisco, known as "Mrs. F," has taught in Lawrence since 1983. She has served on Deerfield's Quality Performance Accreditation Team and worked with parents, teachers and KU professors to develop the "Steps to Success" positive behavior program at Deerfield.
She also chairs Deerfield's Kids Voting program and involves her classes in the "Share the Warmth" community service project to benefit the Salvation Army.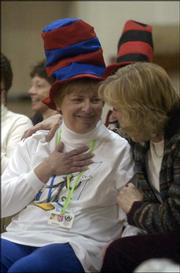 "We send our child to school knowing that he will be basking in the nurturance and encouragement of her loving and sunny disposition all day long," parent Annie Stevens said. "We feel blessed to have our child in her care. She radiates love to all of the children in her classroom and makes each one feel special."
Finneran has taught in Lawrence for 10 years and taught 17 years previously in Topeka. Her classroom in-cludes students who have been out of school with the goal of re-introducing them into their previous schools.
She previously has received the Outstanding Service Award from the National Association of Drama Therapy and the Educator of the Year award from the Kansas State Board of Education and Accessible Arts Inc.
She also is artist-in-residence at Van Go Mobile Arts and holds an adjunct instructor professor position at Kansas State University.
"She is a tireless, relentless advocate for her students and their families," said David Unruh, a district employee. "Her commitment, enthusiasm and creativity continue to develop and thrive in her efforts to enrich the lives of the children and families she serves."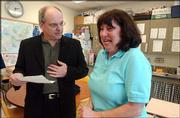 Copyright 2018 The Lawrence Journal-World. All rights reserved. This material may not be published, broadcast, rewritten or redistributed. We strive to uphold our values for every story published.