There's something about the first day of high school spring sports practices -- seemingly every year -- that brings out Mother Nature's mischievous side.
"As a coach," FSHS soccer coach Jason Pendleton said, "you know it's going to be a bad day."
Monday, as spring sports practices began all over Kansas, the weather cooperated just enough to allow some teams to practice outside, and those same teams to be miserable outside.
The temperature Monday afternoon was around 48 degrees, but it came with an overcast sky and a strong, chilly wind that was just a bit on the annoying side.
Well, for most coaches anyway.
"The wind is my friend," Lawrence High tennis coach Dick Wedel said with a grin. "In Kansas, you're going to have half of your matches in the wind. You have to learn to deal with it."
Monday provided an early opportunity. Both LHS and Free State's tennis teams braved the chilly winds to get early season work in. Soccer and track teams also were seen outside for the first day.
"It's cold, but it's cold for everyone," said Pendleton, who had about 25 girls practicing Monday. "They're competing against each other, and the elements are the same for everyone.
"We actually may learn more about the kids and how they handle things in the face of adversity this way."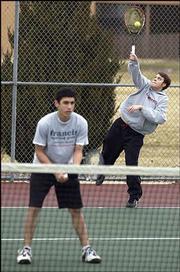 ¢
Who's up first?: The Lawrence High track and LHS girls soccer teams will be the first to compete this spring. The LHS soccer team will play March 18 at Topeka Seaman, the same day the Lions track team will compete at the Topeka West Relays.
March 18 is the first day all spring sports except girls swimming and diving are allowed to compete.
¢
Matchups to mark down: Among the more intriguing games of the spring are the always-interesting city showdowns. Among the ones to mark down on your calendar:
The first city showdown will be on the soccer field. The LHS and FSHS girls soccer teams will meet April 6 at Free State. The Firebirds won the two teams' only head-to-head battle last year.

The city baseball teams will meet twice in the regular season -- April 8 at LHS and May 13 at Free State.
The Free State and LHS softball teams won't meet until May 6. Lawrence will be the home team.
The Kansas Relays, which will feature both LHS and FSHS track and field athletes, will be April 15-17 at Memorial Stadium.
Copyright 2018 The Lawrence Journal-World. All rights reserved. This material may not be published, broadcast, rewritten or redistributed. We strive to uphold our values for every story published.