Under normal circumstances Joyce Bohling would be the last person you'd expect to see leading a murderous attack on Lawrence during the Civil War.
But Tuesday night, for the sake of history, the 11-year-old South Junior High School student stepped on stage before about 300 people and transformed herself into William Quantrill.
"I was nervous at first but I got used to it," Joyce said later, after she and 16 other youths completed short portrayals of several Kansas historical figures from the pre-Civil War era.
They all took part in the Youth Chautauqua Camp and spent only a few hours over five days researching, studying and developing an act around their chosen character.
"They were great," said Joyce Thierer, who along with Ann Birney, both Kansas historians, worked with the youths to develop their historical characters. "If I'd done that at their age I would have been freaking out."
Thierer and Birney operate Ride Into History, a historical performance touring troupe based in Admire. It is a Kansas Arts Commission touring program. The youths led off the final performances of the six-day Bleeding Kansas Chautauqua commemorative review of Lawrence and the Kansas Territory in the pre-Civil War years.
Claire Hunt, 10, Lawrence, described the hard life led by Mary Beeson, who grew up in territorial Kansas.
"I think this definitely got me interested in Kansas history," Claire said after her performance.
Caleb Pine didn't know much about Samuel Pomeroy until he started researching him the past few days using the Internet, books and other resources.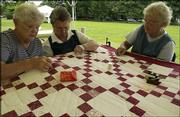 "It was kind of OK, after I found everything I think I needed," Caleb, 9, said, of his research efforts. "He (Pomeroy) was a rich guy and kind of political. He was anti-slavery."
The youths' historical figure portrayals gave way to the grand finale to the Chautauqua events when David Matheny took the stage as fiery Kansas abolitionist John Brown. Matheny, a professor emeritus of communications at Emporia State University, portrayed "Old Brown from Osawatomie" talking about his life as if he was speaking from a Charleston, Va., jail cell on the night before his 1859 execution for leading a raid on the Harper's Ferry arsenal.
At least 900 people jammed themselves underneath and around the South Park tent to hear the performance.
The Chautauqua and other events started Thursday and included several tours of historical locations, lectures and workshops as well as character portrayals. It was organized by the Kansas Humanities Council, the Lawrence Convention and Visitors Bureau and the Lawrence Sesquicentennial Commission and several other sponsors.
Although a final overall attendance figure for the events hasn't been determined, Convention and Visitors Bureau director Judy Billings said the festival of learning had done better than she expected.
"It's been fantastic," she said. "There are a lot of people who are interested in our history and who are hungry to learn more about it. There are a lot of people here from outside of Lawrence."
The Chautauqua events were among many taking place this year in conjunction with the Lawrence sesquicentennial celebration. For more information about the sesquicentennial and listings of activities for each month see www.lawrence150.com.
Copyright 2018 The Lawrence Journal-World. All rights reserved. This material may not be published, broadcast, rewritten or redistributed. We strive to uphold our values for every story published.