TOPEKA — Jessica Yoachim led off Sunday's game against the United States Olympic softball team with an infield single off Cat Osterman.
That was the end of the highlights for the Kansas All-Stars in a rough day against the University of Texas ace. Osterman retired the final 18 batters she faced, striking out 13, in an 8-0 U.S. victory at Hummer Sports Park.
Osterman struck out the side in the second, fifth and sixth innings.
"She's the sharpest pitcher on our staff right now," U.S. catcher Stacey Nuveman said. "Today she had pinpoint control, and the other team was swinging. They were chasing a little bit, and she did what she wanted to."
Osterman improved to 12-0 during the U.S. team's "Aiming for Athens" tour. The Texan hasn't allowed an earned run in 551/3 innings while striking out 124 and walking four. Opponents are batting .067 against her.
Kansas University assistant coach Christi Musser -- playing her first organized game in two years -- went down swinging twice against Osterman before grounding out against reliever Lisa Fernandez in the seventh.
"She probably has the best dropball you'll ever see," Musser said.
Osterman, just 21 and one of only two collegians on the U.S. roster, still seems a bit in awe of her surroundings and her place on a staff that includes Olympic veterans Fernandez, Lori Harrigan and former Arizona ace Jennie Finch.
"It's crazy to see the caliber of pitchers I'm with," said Osterman, who took off the college season to prepare for the Olympics. "I never thought I'd be here in 2004. I was aiming for 2008. I have Jennie Finch closing for me sometimes, and tonight I had Lisa closing for me."
After Nebraska's Yoachim singled in the first, the all-stars made 19 consecutive outs before another Cornhusker -- Trisha Tanahill -- singled off Fernandez in the seventh.
It made little difference to the Americans, who improved to 40-0 on their Olympic tuneup tour and have outscored their opponents 359-11 with 33 shutouts.
Arizona pitcher Alicia Hollowell cruised through the first two innings for the all-stars. She had help from KU infielders Destiny Frankenstein and Jessica Moppin, who turned a short-to-second-to-first double play to get out of the first.
The Jayhawks struck out in their only at-bats, but Musser said it was a good learning experience for the juniors.
"I'm very happy a couple of our girls got the chance to participate in a game like this," she said. "It's good for them and good for the program."
The all-stars won an appeal in the second when U.S. courtesy runner Jaime Clark, who appeared to score on a sacrifice fly, was ruled out for leaving third base too soon.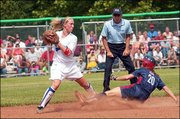 Hollowell ran out of luck in the third when the U.S. sent 11 batters to the plate and scored seven runs. Kelly Kretschman started the big inning with a walk and later smacked a two-run double. In between, Natasha Watley had an RBI single, Leah O'Brien-Amico had a two-run single, and Lovieanne Jung added a two-run double.
"They're good hitters," Hollowell said. "It's hard to get through that order twice. They made adjustments. For everyone on this team, it was a good experience. They're the best team in the world."
Nuveman gave the standing-room-only crowd of 3,000 fans reason to cheer in the fifth when she blasted a solo homer to dead center.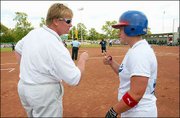 The two-time Olympic champions, who have played 12 games in 17 days, will take a short break before rejoining the tour June 28 in St. Louis. The U.S. squad then has 10 more dates before heading for Athens.
"We definitely need it," Nuveman said of the break. "You have a little tension with 18 women on buses and planes. We can be with our families a little bit. The timing is good. We need to catch our breath."
The Olympic softball tournament is scheduled for Aug. 14-23.
Copyright 2018 The Lawrence Journal-World. All rights reserved. This material may not be published, broadcast, rewritten or redistributed. We strive to uphold our values for every story published.