A 31-year-old proud father of three, Greg Ostertag is a child at heart.
"I think I'm still the big ol' goofy person I was when I played back here," said Ostertag, a 7-foot-2, 280-pound former Kansas University center.
Ostertag, sporting his trademark crew cut this week at Bill Self's KU basketball camp, resembled the same baby-faced big guy who played for Roy Williams from 1991 to '95.
"I don't think I've changed at all," he said.
Some might disagree.
Ostertag, a guy Williams said was responsible for turning his hair prematurely gray, showed the mature man he's become two summers ago when he donated a kidney to save the life of his younger sister, Amy.
"I wouldn't know I did it if I didn't have the scars," Ostertag said. "I feel fine. She's doing very well. The kidney is working great."
Ostertag, whose sister said she "thanks her lucky stars every day. I couldn't have a better brother," has not worried about taking a shot to his remaining kidney the past two NBA seasons.
"Basketball is a contact sport, but most of your contact is up around your head and your shoulders and your chest most of the time," Ostertag said. "There's probably a freak elbow every once in awhile, but usually they are not hard enough to affect much. It's not something I worry about."
Last week he was only concerned with making sure his 10-year-old son Cody had a good time at his fourth KU camp.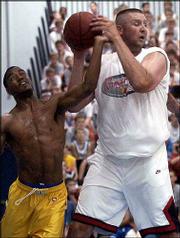 "He plays a lot. One week it's golf. One week it's basketball. One week it's baseball. He's not sure what he wants to do," Ostertag said.
Ostertag also wasn't stressing about his contract status. A free agent after completing his ninth NBA season with the Utah Jazz, Ostertag's last contract was worth $30 million over six years. He made $8,666,666 a year ago, and has expressed interest in playing with the Dallas Mavericks.
"I'm not sure what I'll do," Ostertag said. "I am a free agent. I'll play a couple more years and see how that goes."
His Jazz teams reached the NBA finals in both 1997 and '98, and were perennial contenders before Karl Malone and John Stockton ended their legendary Utah run two seasons ago.
"I'm not saying the Jazz won't (contend)," said Ostertag, who averaged 6.8 points and 7.4 rebounds a game last year, better than his career averages of 5.1 points and 5.9 boards. "They are young. They will have a lot of work to do. I'm not going to say I'm not going back there. I won't count them out at all."
Ostertag should soon see another Jayhawk in the league -- 6-9, 250-pound Wayne Simien.
"Wayne will be fine," Ostertag said. "He is strong, has a big body. He probably will have to develop a little better jump shot because he'll go in as a scorer, not somebody like me who will counted on inside for shot blocking. I think he'll be first round next year and will have a long career because he'll work at it."
Ostertag believes Simien is getting great instruction from Self.
"He seems like a good guy. As far as the coaching part he knows what he's doing," Ostertag said. "At Illinois, he had three good teams in a row. He came here and obviously had a really good team last year. He's bringing in guys to do his offense. In time he'll be fine. I think he'll get a title sooner or later, hopefully it's sooner than later."
Copyright 2018 The Lawrence Journal-World. All rights reserved. This material may not be published, broadcast, rewritten or redistributed. We strive to uphold our values for every story published.