Around 11 a.m. today, a group of James Joyce enthusiasts in Lawrence will turn the final page of Joyce's classic "Ulysses" outside of the Dusty Bookshelf, 708 Mass.
And soon after, they'll probably pass out in exhaustion.
If all goes as planned, they will have reached the end of a 28-hour marathon reading of the book that began Wednesday morning. The book, considered by many to be one of the world's best novels, follows the journeys of Stephen Dedalus and Leopold Bloom through Dublin on June 16, 1904.
Every June 16, Joyce fans around the world celebrate "Bloomsday."
This year's Bloomsday was special because it celebrated the 100th anniversary of the day in which the book was set.
"It's one of the most important novels of the 21st century," said Rich Ring, who is the bibliographer for English language and literature at Kansas University's Watson Library and attended the reading.
"There are so many other trivial things we celebrate," he said. "The 100th anniversary of Bloomsday seems more important to me than many of the other things we celebrate."
The marathon book-reading wrapped up a week of Lawrence celebrations in honor of the anniversary. Last week, KU's English department played host to a special conference that featured lectures and discussions by scholars. The week also featured music, storytelling and the showing of "Nora," a 2000 film about Joyce's wife.
Kathryn Conrad, an associate professor of English at KU who specializes in 20th-century British and Irish literature, organized the conference and various events.
Conrad and some of her students participated in an informal all-day reading of "Ulysses" last year, but they decided to open it to the public this year. The readers changed locations eight times during the marathon, starting at the Raven Bookstore, 8 E. Seventh St., and ending at the Dusty Bookshelf.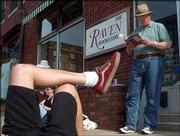 "The reason we read it all in one day is that you can actually keep track of the time with the book until about midnight," Conrad said.
After midnight the book wanders, and around 4:30 a.m. it can be difficult to stay awake if you are not reading.
"Coffee, I suspect, will help a lot," Conrad said. "A lot of coffee."
But it will be worth it for those who can stay awake.
"The best way to hear the book is to hear it out loud and to hear it all at once," Conrad said. "It's hard to stay awake and conscious for 28 hours, but it is the easiest way to get a sense of Joyce's language. It's a very musical book, so it's an easy way to get a sense of that, much more than reading it on your own."
People most likely will come and go from the reading, Conrad said, but a core group of about five or six people probably will stick it out through the entirety.
Ed Tato, of Lawrence, is one in the group who hopes to make it all the way through.
"We'll see if I make it," Tato said. "Last year I had to quit at about 6 a.m.; I couldn't take it anymore."
The marathon reading of James Joyce's "Ulysses" is a traveling show throughout Lawrence. Readings took place Wednesday at the Raven Bookstore, 8 E. Seventh St.; Borders Cafe, 700 N.H.; Vermont St. BBQ, 728 Mass.; Lawrence Public Library Gallery, 707 Vt.; and The Jayhawker at The Eldridge Hotel, 701 Mass. Today's schedule for readings:¢ 1 a.m.-2 a.m.: Wandering through the streets of Lawrence.¢ 2 a.m.-9 a.m.: Java Break, 17 E. Seventh St.¢ 9 a.m.-finish: Dusty Bookshelf, 708 Mass.
Copyright 2018 The Lawrence Journal-World. All rights reserved. This material may not be published, broadcast, rewritten or redistributed. We strive to uphold our values for every story published.