Greg Ostertag plopped a big bag of ice on his right foot after scoring seven points in the Kansas University alumni basketball team's 81-64 victory over the current Jayhawks on Wednesday at Horejsi Center.
The 7-foot-2, 280-pound Utah Jazz center twisted his ankle chasing a loose ball. He and 6-11, 265-pound Scot Pollard hustled and banged for 40 minutes against Wayne Simien and KU's other inside players.
"You want to beat those guys. You've got to have bragging rights," said the 31-year-old Ostertag, a beast on the boards Wednesday. "You don't want to take it too easy on them. They are out to beat us as much as we're trying to beat them.
"I didn't play last year. I think this makes me 1-1 now," added Ostertag, keeping track of his performance in the games that annually are the highlight of KU's four-day men's basketball camp.
"You are always competitive when you are out there," said Indiana Pacers' big man Pollard, who said "no way," when asked if losing was an option after he scored 10 points and grabbed a bunch of boards.
"I felt a couple calls didn't go our way so I got fired up. I played the way I can and you saw what happened."
Billy Thomas, who played in Italy last year, and Nick Bradford, who played in Iceland, had 20 and 17 points for the winners, who were joined by 2003-04 senior Bryant Nash and current Jayhawks Russell Robinson, Stephen Vinson and Matt Kleinmann on the alumni team.
Pollard impressed the KU players, most notably C.J. Giles, a 6-10, 220-pounder who was hacked hard when trying to dunk on the 29-year-old NBA veteran.
"He's humongous," Giles said. "He is a beast -- strong and tough."
"Scot and Ostertag are just humongous. You can't even compare them to anybody," senior Michael Lee said after swishing two threes and hitting three deep two-pointers.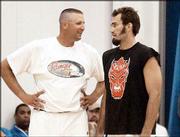 KU newcomer Robinson thrived while feeding the ball to NBA twin towers Pollard and Ostertag.
"They are so strong and very experienced," the 6-2 Robinson said. "They use their experience to their advantage. It was a great experience. They have a lot to offer. I tried to make the best of it."
Robinson alley-ooped to Nash, who dunked on the final play of the game. Robinson also stopped a 2-on-1 fast break, leaping high for a steal.
"It was a lot of fun," Robinson said. "I was just happy to be out there. I'm a competitor. I always like to win, whenever I hit the floor."
Williams on campus: Terrence Williams, a 6-7 high school senior-to-be from Seattle, is in town on his official campus visit. A former Rainier Beach High teammate of KU's Giles, he has a final list of KU, Indiana and Louisville.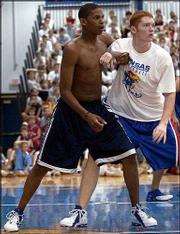 "I'd like to see him here. I'm trying to get him here. It'd be a great opportunity to play with him," Giles said. "He is athletic, can jump out of the gym. He's good at everything."
Will he pick KU? "Hopefully. He keeps saying that to me. I don't know if he's joking or not," Giles said.
Manning applauds Brown: Danny Manning, who is expected to take over as KU's director of basketball operations next season, was pleased his former college coach, Larry Brown, and his last NBA team, the Detroit Pistons, won the NBA title on Tuesday night.
"I'm very excited for coach Brown, absolutely," Manning said. "Coach Brown is a great coach and teacher. To finally get to this point, it's a long time coming."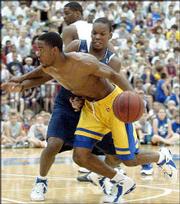 Free agency: Ostertag was asked if he'd consider signing with his hometown team, the Dallas Mavericks.
"I think I'd have to be a fool to say no," Ostertag said. "I grew up 10 minutes from where they play."
He's not discounting a 10th season in Utah.
"I will not say I'm not going back there. I won't count them out at all," he said.
Ostertag's 10-year-old son, Cody, is attending his fourth KU camp.
Veteran thoughts: Pollard and Ostertag opined on KU freshmen big men Kaun and Giles.
"They are big and raw," Pollard said.
"I think it's more a surprise for them. I outweigh everybody here by 40 pounds," Ostertag said. "That's a lot of weight. Scot is big and strong, too."
Food poisoning: Giles explained his recent illness, which put him in the hospital and caused him to lose 15 pounds.
"I was sick before I came here on my visit (in May)," Giles said. "I went to see the trainer. He said I had a temperature of 102. I ate some shellfish up here, I don't know why ... and I got real sick two days later and went to the hospital."
Copyright 2017 The Lawrence Journal-World. All rights reserved. This material may not be published, broadcast, rewritten or redistributed. We strive to uphold our values for every story published.