Baghdad, Iraq — Insurgents struck at the heart of Iraq's economic livelihood Wednesday, blasting a major pipeline to halt vital oil exports and killing the top security chief for the northern oilfields.
A rocket slammed into a U.S. logistics base near Balad, 50 miles north of Baghdad, killing three U.S. soldiers and wounding 25 other people, including two civilian workers, the military said.
A mortar exploded in central Baghdad after midnight, setting off sirens in the U.S.-controlled Green Zone headquarters. The coalition said there were no casualties or damage. A rocket or rocket-propelled grenade also landed in the walled garden of the Palestine Hotel, headquarters of numerous Western news organizations, but failed to explode.
Elsewhere, radical Shiite cleric Muqtada al-Sadr ordered his militiamen to leave the holy cities of Najaf and Kufa unless they live there, fulfilling a key aspect of an accord meant to end fighting between his fighters and U.S. troops.
An explosion before dawn Wednesday damaged a pipeline carrying crude oil from Iraq's southern fields to the Basra oil terminal in the Persian Gulf. Iraqi engineers had diverted crude shipments to that pipeline after another was bombed two days ago.
"Due to the damage inflicted on the two pipelines, the pumping of oil to the Basra oil terminal has completely stopped," said Samir Jassim, spokesman of the state-owned Southern Oil Co. "Exports have come to halt."
Exports were halted last month through Iraq's other export avenue -- the northern pipeline from Kirkuk to Ceyhan, Turkey -- after a May 25 bombing, Turkish officials said.
Iraqi officials said they hoped to repair the southern pipelines in a few days, and the disruptions were not expected to have a substantial effect on world petroleum supplies. Although Iraq has the world's second-largest petroleum reserves after Saudi Arabia, sabotage and decrepit facilities have prevented it from taking a leading role in global oil markets.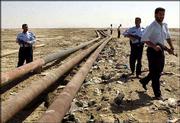 The economic and psychological effects in Iraq are more far-reaching, coming during a surge in violence ahead of the June 30 transfer of sovereignty to Iraqis.
The two southern pipelines export about 1.7 million barrels a day, according to the Middle East Economic Survey. Each day that the southern lines are closed will cost Iraq about $50 million, said Walid Khadduri, an expert on Iraq's oil industry.
Early today, several large explosions were heard in Baghdad. No other information was immediately available.
Copyright 2018 The Associated Press. All rights reserved. This material may not be published, broadcast, rewritten or redistributed. We strive to uphold our values for every story published.