Las Vegas — In a deal that would create the world's largest casino company and bring some of the most famous Las Vegas Strip properties under a single owner, Mandalay Resort Group directors have said yes to MGM Mirage's $4.8 billion cash buyout.
Now the companies must persuade regulators to take a gamble on such a behemoth casino combination.
Jim Murren, MGM Mirage's president and chief financial officer, said the board was satisfied antitrust issues would not derail the deal.
"We've become increasingly comfortable ... that this poses no regulatory concern," Murren said. "We have excellent outside counsel and advisers and they have made the board of directors comfortable."
The board of Mandalay Resort Group Inc. OK'd the MGM Mirage offer late Tuesday, said Glenn Schaeffer, Mandalay's president and chief financial officer.
MGM Mirage's board gave it approval to the proposal earlier Tuesday after an exhaustive presentation to its directors that lasted almost four hours.
The deal includes the assumption of $2.5 billion in Mandalay debt and $600 million in bonds that can be exchanged for stock in the company.
Schaeffer said there was no change in the deal's terms. Schaeffer added the agreement also calls for a $160 million breakup fee if the transaction does not close.
The cash price represents a 30 percent premium to Mandalay's closing share price on June 3, the day before MGM Mirage's initial offer of $68 per share was disclosed.
The two Las Vegas-based companies have been in friendly negotiations that unraveled Friday after MGM Mirage requested a 15-month option to pull out of the deal while retaining strategic control over Mandalay during the time period.
The companies regrouped over the weekend and salvaged the deal that will establish the largest casino company in the world and dominate the Las Vegas Strip.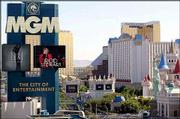 Any such transaction would take months to complete. The deal must be reviewed by the Federal Trade Commission and gambling regulators in states in which the firms own casinos.
The deal would create a company with more than $6 billion a year in revenues and 28 casinos in Nevada, Mississippi, Michigan and Illinois. MGM Mirage also owns 50 percent of the Borgata hotel-casino in Atlantic City, N.J.
It would be the biggest merger between gambling companies ever, surpassing Kirk Kerkorian's $4.4 billion buyout of Steve Wynn's Mirage Resorts in 2000.
With the merger, the 87-year-old Kerkorian, MGM Mirage's majority shareholder, would become the top gambling mogul in Las Vegas. The combined companies would control about half of the 72,000 hotel rooms on the Strip.
Copyright 2018 The Associated Press. All rights reserved. This material may not be published, broadcast, rewritten or redistributed. We strive to uphold our values for every story published.