Roslyn, N.Y. — This is an unlikely setting for a crisis in the public schools.
Roslyn High sends 95 percent of its graduates to college, its SAT scores are among the best in the nation, and it was cited in a recent Wall Street Journal story on the some of country's finest public schools. Foreign language is offered to youngsters beginning in kindergarten.
For more than two decades, voters in this well-to-do Long Island community less than 20 miles from Manhattan have faithfully supported a generous school budget, funding whatever programs administrators thought necessary to keep the district's 3,000 students at the head of the class.
Then came accusations this spring of theft and breathtaking avarice: school funds -- perhaps millions -- allegedly used to buy luxury homes, cars and other items, and tens of thousands of dollars in dry cleaning and gourmet food bills.
The scandal has led to the arrest of a former administrator and a voter revolt.
The furor unfolded slowly. First there was an anonymous letter sent to the school board in February, alleging the former longtime administrator may have stolen much more than the $250,000 she repaid two years ago, when she was quietly permitted to retire. That led to an investigation by the district attorney's office and the indictment earlier this month of Pamela Gluckin, former assistant superintendent for business, on charges of stealing more than $1 million.
The school board now says it has found nearly $8 million in suspicious spending.
Prosecutors say the money Gluckin took paid for mortgages on three homes and luxury automobiles. Her attorney said that she was innocent and that people would change their opinion of her once all the facts come out.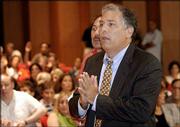 Pricey perks
Gluckin's arrest, it turned out, was just the beginning.
The superintendent of schools, Frank Tassone, has announced his retirement. He had been suspended by the board after it was discovered that $800,000 was paid by the school district to a word-processing company that shares his New York City mailing address. Tassone has not been charged and has refused to comment on the allegations.
In the wake of Gluckin's arrest, Newsday has reported new allegations almost daily of school money that may have been spent on perks. One report said $33,141 was paid to a dry cleaner used by Tassone; $30,605 went to a gourmet food market near where Gluckin once lived; $187,377 went to car dealerships and financing companies; and $551,569 went to four companies owned by Gluckin or her husband.
The district attorney's office is pressing ahead, and more arrests are possible.
The voters in Roslyn have responded. Last month they overwhelmingly rejected an $82 million budget, the first time in 23 years that a spending plan was voted down.
Officials conceded the theft allegations played a major role.
Copyright 2018 The Associated Press. All rights reserved. This material may not be published, broadcast, rewritten or redistributed. We strive to uphold our values for every story published.