Washington — John Kerry announced Wednesday that his campaign had collected more than $100 million in the last three months, hitting his campaign goal more than a month early and out-raising President Bush each month since he clinched the Democratic nomination March 2.
With six weeks to go until the Democratic National Convention, Kerry's campaign asserted that he had done better than the president in collecting Internet contributions and other small donations, and beaten by $30 million the $115 million record Bush set in 2000 for most money raised by a nonincumbent candidate.
Kerry raised $45 million more than Bush in the last 90 days, his campaign said, including at least double what Bush did in May -- $26 million to $13 million. His aides released the figures in advance of a June 20 Federal Election Commission reporting deadline.
But they declined to say how much Kerry has spent, how much he has on hand, and any indebtedness, saying those would be in the June 20 report.
The Bush campaign declined to confirm the $13 million May fund-raising figure, saying it would disclose the total Friday.
Kerry still badly trails Bush in the money race; the president has raised more than $200 million. But the new figures show that he is continuing to exceed strategists' early expectations. Campaign finance experts attribute Kerry's success to the urgency Bush's opponents feel to oust him, and to polls showing that the race continues to be close.
After Kerry's decisive Super Tuesday victories in early March confirmed his position as the party nominee, some Democrats worried that he would be unable to compete with Bush, given the massive fund-raising advantage the president enjoyed. According to FEC disclosures last month, the Bush campaign spent $80 million on advertising in March and April alone.
Kerry's aides said the newest fund-raising results showed that the negative advertisements Bush had purchased had not hurt the Massachusetts senator.
"When John Kerry essentially secured the Democratic nomination on Super Tuesday, the Bush campaign immediately launched a negative attack campaign, declaring that within 90 days they would 'bury' our campaign," said Mary Beth Cahill, Kerry's campaign manager. "I'm happy to report that 90 days later, they failed. The Bush campaign has spent $80 million in negative ads, while the Kerry campaign is stronger than ever."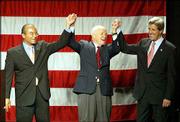 Copyright 2018 The Lawrence Journal-World. All rights reserved. This material may not be published, broadcast, rewritten or redistributed. We strive to uphold our values for every story published.