San Francisco — A defiant Marion Jones issued a plea Wednesday for a public hearing she hopes will clear her name amid drug allegations that could keep her out of the Athens Games.
The champion sprinter is one of the most prominent athletes who testified in a federal probe of a drug lab accused of illegally distributing steroids. She answered questions from a grand jury and the United States Anti-Doping Agency but remains under a cloud of suspicion less than two months before the games.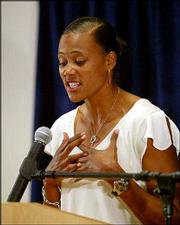 "If you can imagine what I've been through the last couple of months. ... I'm trying to make the U.S. Olympic team and this is a constant distraction," Jones said. "I want this done today. I want this done yesterday. I want this done as soon as possible. ... I'm hoping to send a message to USADA that I want this done and I want my name cleared. I want to move on. What are we waiting for?"
Jones, America's best-known track athlete, called the news conference to express her frustration with the probe, which already has targeted several other Olympians and threatens to derail her career. Calling the agency a "kangaroo court," she repeated her claim that she has "never, ever used performance-enhancing drugs."
USADA is investigating Jones for possible violations of rules banning the drugs. She met with doping officials last month to discuss their evidence, and received a letter from the agency last week asking follow-up questions. She said she wanted a public hearing to ensure a fair process.
"If they're going to try to ban an athlete, then make it public," she said. "That's all I'm asking for."
Copyright 2018 The Lawrence Journal-World. All rights reserved. This material may not be published, broadcast, rewritten or redistributed. We strive to uphold our values for every story published.