Normally, the visitors to 63-year-old Perry Buck's front yard at Clinton State Park are quiet. Finches come for the birdseed. Deer come to sample the salt licks.
This weekend, the area in front of Buck's trailer will be full of a noisier kind of wildlife: thousands of festival-going music fans. Buck's trailer, where he lives year-round with his wife, is sandwiched between two main stages of the weekendlong Wakarusa Music and Camping Festival, an 80-band extravaganza expected to draw between 10,000 and 15,000 people from across the country.
"I'll be in stereo with two different kinds of music," Buck said.
The event is temporarily turning an otherwise quiet corner of Clinton Lake into a decent-sized Kansas town. It will have a general store, portable showers, first-aid stations, a "No Waka" transportation shuttle running on the half-hour to downtown Lawrence, and about 190 portable toilets that the organizers promise will be serviced at least once per day by a private contractor.
"If they start overflowing, so to speak, we'll have them serviced within two hours," said Nate Prenger, one of the festival organizers.
Fans are expected to start arriving today for a weekend of music that's heavy on acoustic acts, bluegrass and hippie-friendly "jam bands."
The festival's promoters, Pipeline Productions, have put on events in the past at Clinton Lake, but none this big. There's only one entrance to the park, with one lane going in, and Lt. Don Crowe of the Douglas County Sheriff's Office said he thought traffic flow might be a problem.
In the worst-case scenario, traffic would back up out of the park and onto Kansas Highway 10, he said. But if that happens, deputies could make the park's entrance two lanes of one-way traffic and route outgoing traffic through an emergency exit, he said.
At first glance, Buck's situation between stages might appear to be a problem. After all, a sign in his driveway reads "Slow -- Grandparents at Play."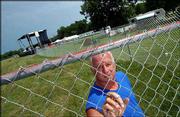 But Buck decided to stay put for the weekend and have fun. His teenage grandchildren are coming to visit.
"As long as it's not destructive and they're having a good time, why not be here?" said Buck, a retiree who drives a school bus on the side. "I may get up on stage before it's over."
Technically, Buck will be backstage -- in an area separated from the crowd by a temporary fence erected earlier in the week.
On Wednesday, crews were busy setting up stages and temporary road signs. Concert organizers paced outside a backstage trailer, talking into cell phones and walkie-talkies. A fleet of about 60 golf carts stood at the ready.
Brett Mosiman, owner of Pipeline Productions, said about 500 traveling workers would be doing everything from changing trash bags to directing traffic.
At 3 p.m., promoters met with officials from the Sheriff's Office and the Kansas Department of Wildlife and Parks to talk about any last-minute problems.
Lt. Crowe said the event's organizers had been good about communicating with his agency.
But one agency that hasn't been involved with the planning is the landlord: the U.S. Army Corps of Engineers, which leases the section of Clinton Lake that's being used for the festival, Clinton State Park, to the state. Lew Ruona, a corps official, said no one had consulted his agency about the festival.
"At best, I'm not pleased with the coordination effort," he said.
He questioned why there wasn't better communication and said he worried the event could have a negative impact on other users of Clinton Lake. The corps manages other areas at the site including the Bloomington, Woodridge and Rockhaven parks.
Mosiman, the festival organizer, said he doubted the events would spill out of the state park area. He said organizers decided to deal with the state in planning the concert, and said he could give the corps input in future festivals.
Copyright 2018 The Lawrence Journal-World. All rights reserved. This material may not be published, broadcast, rewritten or redistributed. We strive to uphold our values for every story published.