On campus since Monday, Kansas University incoming freshman C.J. Giles already has played several pick-up games against national player-of-the year candidate Wayne Simien.
The results, the 6-foot-10, 220-pound Giles said, have not been pretty.
"Wayne is throwing me everywhere," said Giles, who decided to engage in an emergency weight-gaining program so he could hold his own against bulkier players like the 6-9, 250-pound Simien.
"My goal is to get to 260. I've got to get up to that weight so I can bang with him."
The slender Giles, who averaged 17 points, 12 rebounds and six blocks a game last season at Seattle's Rainier Beach High, said he had been chowing down on peanut butter sandwiches in hopes of gaining the 15 pounds he lost recently because of a virus and a bout with food poisoning.
"All I do is work out and eat," Giles said.
KU coach Bill Self was happy to hear Giles was committed to putting meat on his bones.
"In all honesty, he's a guy who needs to spend a lot of time in the weight room," said Self, who envisions Giles at 230 or 235 pounds by the start of the season. "He'll gain 15 pounds. That's weight he already had before (he became ill). He's just now getting his strength back."
Self introduced Giles to 700 or so youth basketball players at KU's basketball camp Tuesday at Horejsi Center.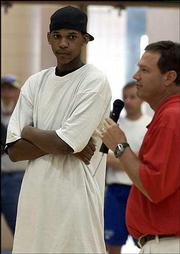 "C.J., raise your hands over your head," Self asked the player. "Look at that. He has a wingspan of 7-4," Self marveled. "He's one of the best shotblockers around."
Giles was a late addition to the roster, choosing KU over Washington on May 18. Originally he had signed with Miami, but asked out of that letter of intent after coach Perry Clark was fired. It took Giles a month to receive his release.
"I was getting real nervous. It was like they were going to hold me for the long run. I started to think about things I might have to do. We went to the lawyer and all that," Giles said.
Giles' decision to attend KU pleased his mom and dad who played basketball at KU.
"It means a great deal to them," Giles said. "They both loved it. I'm following in their footsteps here."
¢
Canada trip likely: KU is still considering taking a foreign tour to Vancouver, British Columbia, over Labor Day weekend, practicing in Lawrence for 10 days prior to the trip.
"It's something we're leaning toward doing," said Self, who said his deadline for making a decision was July 1.
There still is a chance KU could play in an exempt tournament if a U.S. district court tosses out a rule prohibiting teams from playing in more than two exempt tourneys every four years. That decision would need to come soon, however.
¢
Williams on campus: Terrence Williams, a 6-7 senior-to-be from Seattle's Rainier Beach High, was to begin his official campus visit to KU today. Williams has a final list of KU, Indiana and Louisville.
The Jayhawks have filled two of their four scholarships for the class of 2005. KU is in the running for prep seniors-to-be Kevin Rogers (6-8) and Calvin Miles (6-6), good friends from Dallas who say they will visit KU this fall and want to attend the same school. The Jayhawks also are in the hunt for Tyler Hansbrough, a 6-9 senior-to-be from Poplar Bluff, Mo.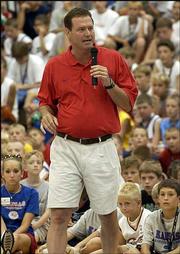 Hansbrough tells rivals.com he will not make a college choice until after the Nike camp is completed in early July. He has a final list of KU, Kentucky and North Carolina.
Self said he didn't envision signing more than four players. "If we did (oversign) it would be based on what NBA people were telling us that somebody will possibly go (pro) early," Self said. "I am not thinking that at all. I think we'll try to sign four no matter what."
¢
Jersey numbers: Freshman Matt Kleinmann will wear No. 54 next season, not No. 44 as earlier announced. C.J. Giles will wear 33, Alex Galindo 2, Russell Robinson 3, Sasha Kaun 24 and Darnell Jackson 32.
¢
Pitino on newest Card: Louisville coach Rick Pitino spoke about transfer David Padgett on Tuesday, saying, "David is someone we can build our offenses and defenses around for next year when we enter the Big East. He can do it all as a big man. He runs the floor. He can spot up, he can post up, he blocks shots and he rebounds. He also has a passion to eat, sleep and drink this game of basketball. We recruited David out of high school and unfortunately did not get a commitment. The second time around has been a really good situation for U of L and ultimately, I believe, will be for David."
Copyright 2017 The Lawrence Journal-World. All rights reserved. This material may not be published, broadcast, rewritten or redistributed. We strive to uphold our values for every story published.