New York — Alas, wireless Internet may not be the technology sector's salvation after all.
Small companies, some publicly traded, are burning cash trying to turn Wi-Fi into viable business. Some already have shut down.
Faster than you can say "industry bubble," skeptics are asking whether wireless Internet connections will become similar to the wired Internet of the late 1990s -- hot but rarely profitable.
"Anyone trying to build a stand-alone business on Wi-Fi access should be worried," said analyst John Yunker of Byte Level Research. "It's not a stand-alone business, it's an add-on to other communications businesses, the cable bill or the DSL bill."
Wi-Fi, short for wireless fidelity, appeals most to people with laptops and personal digital assistants. It radiates an Internet connection to users within 300 feet -- a zone known as a "hotspot."
Wi-Fi gear is shrinking in both size and price, to the point where Wi-Fi connections eventually could be built into power strips. The fact that Wi-Fi uses unlicensed bands of the radio spectrum makes it even cheaper to deploy.
Of course, the low costs can be a huge plus for companies trying to turn the technology into a profitable business.
David Hagan, president of Boingo Wireless Inc., an aggregator that sells for $21.95 a month access to 6,000 hotspots deployed by other companies, said the 3-year-old company's main cost is its 70 employees.
He expects Boingo to become profitable by 2006. "We have the cash to get there," he said.
But the talk of the industry is whether Wi-Fi service will eventually be free -- with the technology's low cost frequently borne by stores that hope wireless Internet access will encourage customers to linger.
Cities such as San Jose, Calif., Spokane, Wash., and Austin, Texas, have set up free hotspots. Companies including Best Western International Inc. hotels and Panera Bread Co. give away Wi-Fi access to lure customers.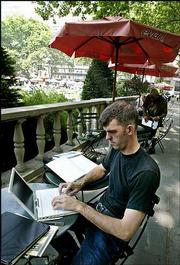 Verizon Communications Inc. gives its DSL customers free access to the company's New York hotspots.
After being launched in 2002 with an ambitious plan for a national chain of hotspots, Cometa Networks Inc., whose investors included AT&T; Corp., Intel Corp. and IBM Corp., shut down in May, saying it had run out of money.
Other Wi-Fi companies have had to alter their business model. Wayport Inc., which hastened Cometa's end when it got the contract to set up Wi-Fi in 6,000 McDonald's Corp. restaurants, began by selling access to consumers but announced plans in May to adopt a wholesale model.
That means Wayport will charge restaurants, hotels or convention centers to build, set up and maintain Wi-Fi hotspots while the venue or a separate service provider sells or gives away the connections.
Wayport, founded in 1998 and funded by venture capitalists, is not profitable, said Dan Lowden, its vice president of marketing.
Wayport and wireless phone provider T-Mobile USA Inc. are the two biggest Wi-Fi service providers, accounting for 95 percent of the nation's hotspots, according to Phillip Redman, research vice president at Gartner Inc.
Meanwhile, several tiny Wi-Fi companies are still trying to cash in around the edges. Because deploying Wi-Fi is so cheap and easy, "It's kind of been a Wild West environment, where anyone can set up a hotspot and try to sell service," said Roberta Wiggins, a research fellow at the Yankee Group.
Yunker of Byte Level Research suggested that investors be careful with Wi-Fi stocks.
Siricomm Inc., whose shares trades over the counter rather than on a major exchange, is trying to build a private Wi-Fi network in truck stops and weigh stations.
From its inception in 2000 through its most recent quarterly report, the company has had no revenue and total losses of $5.1 million. Still, chief financial officer Richard Iler believes Siricomm will find success in turning some of the nation's 4 million truckers into "knowledge workers," letting them use wireless Internet access to structure routes and loads.
One small over-the-counter company, R Wireless, recently left the business after building only one hotspot, at an office building in New York.
Why stop now? "Management believes that only Wi-Fi equipment manufacturers are currently successful in generating profits in the Wi-Fi industry, and service providers have yet to develop a profitable business model," the company said in its most recent quarterly report.
And so, the filing said, R Wireless "has started looking for alternative realization opportunities."
Copyright 2018 The Associated Press. All rights reserved. This material may not be published, broadcast, rewritten or redistributed. We strive to uphold our values for every story published.