AUBURN HILLS, MICH. — As if the Los Angeles Lakers don't have enough to worry about with the Detroit Pistons, they also are dealing with injuries and outside distractions.
Karl Malone is playing despite having what he believes to be a torn ligament in his right knee, and Derek Fisher and Devean George have also been slowed by injured knees.
Perhaps that at least partially explains the limited contributions from the so-called supporting cast to Shaquille O'Neal and Kobe Bryant through three games of the NBA Finals. The Lakers haven't had a player score in double figures other than their big two.
Meanwhile, an unidentified fan's allegation that Malone poked him in the face before Game 3 was being investigated by police Friday.
And several other fans have made it difficult for the Lakers to get their rest by harassing them in the wee hours at their hotel in nearby Birmingham.
The Lakers can't get out of this area soon enough, but they've got to win Sunday or Tuesday to send the best-of-seven series back to Los Angeles.
No home team has won the three middle games of the finals since the 2-3-2 format went into effect in 1985, but the Pistons are playing like they might be the first.
"It seems like their desire to be in this position to be champions is greater than ours at this point," Fisher said a day after the Pistons beat the Lakers 88-68 to take a 2-1 lead in the series.
"I'm not worried," George said. "I won't be worried until there is two seconds left and we're down."
Malone was limited to 18 minutes in Game 3 by what the Lakers have called a sprained ligament in his right knee. He missed 39 regular-season games because of a torn ligament that originally was called a sprain.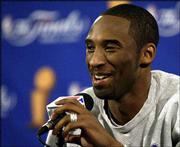 Malone believes he has another tear. He said the team's medical staff is doing everything they can to get him ready to play.
"It's just how I respond. Go figure -- the same injury twice. It's just one of those things," Malone said.
Malone still was upset about his encounter with a fan before Game 3.
"To me, he was really out of line," Malone said. "Just because you buy a ticket doesn't mean you should be able to get on the court and degrade somebody."
Asked whether the confrontation occurred, Auburn Hills police Lt. James Manning said, "It's on tape on national TV."
The man was at the edge of the court during the Lakers' layup drill before Game 3. Malone, the NBA's second-leading career scorer, said the fan had obviously been drinking and spit in his face while heckling him.
Malone jabbed his right index finger toward the man. Whether he made contact, Malone said, "Maybe I did, but he was in my playing field. He was on the court. Where was the security in the arena?"
Copyright 2018 The Associated Press. All rights reserved. This material may not be published, broadcast, rewritten or redistributed. We strive to uphold our values for every story published.