Reenie Stogsdill puts two fingers in her mouth and whistles.
The shrill blast is loud enough for everyone to hear across the four softball diamonds at the Holcom Field Complex.
On cue, a dozen girls shagging fly balls on the Red Field jog over to the Blue Field where Stogsdill is teaching batting, having the girls hit softballs flying out of a pitching machine.
Stogsdill stands behind a protective net next to the pitching rubber, telling the batters to keep their elbows up and get closer to the plate.
This is the Lawrence High School softball camp, a four-day session for girls from third through ninth grades. For Stogsdill, who founded the camp 12 years ago, it's become a yearly tradition.
"I want them to learn the basic fundamentals," says Stogsdill, who coaches the LHS team during the school year. "We want to teach them now so they develop good habits. It's a fun place to learn."
Although Stogsdill coaches older kids, she tries to tailor the camp toward the needs of younger players, who might be putting on a glove for the first time.
And she wants to make sure they have a good time.
"We try to mix in fun with the hard work," she says.
The camp has a mock Olympics, with prizes at the end of the week for the winning team. Events include an obstacle course and an egg toss, and the campers come up with their own team names.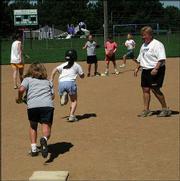 One team calls themselves Blazing String Cheese. This year, 92 girls signed up to spend a week learning the game in the June heat.
Stogsdill, who teaches elementary school physical education during the school year, has worked with coach Charlie Lauts since the camp's beginning. Lauts is also Stogsdill's assistant coach at LHS.
Both women say the girls can develop good habits through continued practice. They've developed such a rapport over the years that they often finish each other's sentences.
"You always tell them that they did something right," says Lauts. "You show them what to do step-by-step, and constantly remind them of what you showed them."
"Everyone's a different learner," adds Stogsdill.
All the camp's coaches are involved with the local softball world.
One coach, Jill Larson-Bradney, is the head coach at Perry-Lecompton High, while another, Dani May, played for Stogsdill at LHS before moving on to the Kansas University team.
Twenty-two-year-old May said that coaching at the camp sometimes doesn't seem like work because of the girls' attitudes.
"All they want to do is come out and have fun and learn," she says. "They make it really fun for me."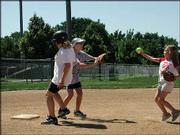 Madison Coen is one of those players that makes the camp fun for May. This year is Madison's first at the camp, and her father, Kirk, said it so far has been a good experience.
"She comes at night and she's real excited," he says. "With baseball and softball, a lot of it is keeping them interested in it. It's not constant motion like basketball or soccer."
This will be a busy summer for Stogsdill. She is helping out with the KU and Pittsburg State University camps. After that, she wants to hang out as much as she can with her 5-year-old son who's just learning to play baseball.
For the coach though, there's always the satisfaction of seeing the same faces at the camp the next year and watching girls she's coached keep playing in high school and beyond. She says her reasons for running the camp are simple.
"I love the game," she says, "I have a passion for the game and I want to teach kids the basics of softball."
Copyright 2018 The Lawrence Journal-World. All rights reserved. This material may not be published, broadcast, rewritten or redistributed. We strive to uphold our values for every story published.