Wright — Strong straight-line winds derailed 68 empty grain cars Wednesday on a train just west of Wright, officials said.
No one was injured in the derailment east of Dodge City, which happened about 11 a.m. and extended for more than a mile, closing off the west entrance to the town.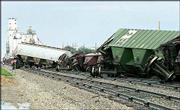 The Burlington Northern-Santa Fe train, bound for St. Joseph, Mo., was returning from El Paso, Texas, said company spokesman Steve Forsberg. The 95 cars on the train were all empty.
The three locomotives remained on the track. The first car was partially off the track and the following 68 cars were completely laid over on their side, said Russ Smith, chief of fire and emergency management system in Dodge City.
A quarter mile away, strong winds also blew over a tractor-trailer, Smith said. No injuries were reported in that accident.
The train was in the process of stopping because of a high-wind warning from the BNSF's weather data company, Forsberg said.
"It is not that common, but it is also not unheard of," Forsberg said.
Two main rail lines were affected by the derailment. BNSF said the main track was expected to reopen by 8 p.m. Wednesday, several hours before Amtrak was scheduled to go through the site. It is not known how long it will take to clear the second track, Forsberg said.
Copyright 2018 The Associated Press. All rights reserved. This material may not be published, broadcast, rewritten or redistributed. We strive to uphold our values for every story published.