Kansas would be a safer place for children and teenagers if the state had tougher seat belt laws, according to a national survey being released today.
The annual Kids Count survey also found that conditions in 21 states were better for children than those in Kansas.
"That's not good news," said Gary Brunk, executive director at Kansas Action for Children. "We were 18th overall, so we're dropping."
The survey's rankings are based on 10 measurements affecting children, including the number of low-birthweight babies, the percentage of children living in poverty and the percentage of students who drop out of high school.
"When you get into the numbers, you see that what really brings us down is 'child death rate' and 'rate of teen deaths by accident, homicide and suicide,'" Brunk said. "And when you get into those numbers, you see that they are primarily driven by car-accident fatalities, which could have been prevented by wearing seat belts."
The Kansas Child Death Review Board's latest annual report confirmed Brunk's concerns about seat belts, noting that 84 children died in car accidents in 2001. Of those, 64 were not wearing seat belts.
"The single easiest, most effective way to save the lives of Kansas children is to have them properly restrained in automobiles," said Kevin Graham, an assistant attorney general and chairman of the Death Review Board.
Edna Buttler, a Kansas Highway Patrol trooper assigned to Douglas County, knows the statistics firsthand.
"I did seven death notifications in 2003," Buttler said. "Five of those deaths could have been avoided with seat belts. Four of the five were under age 20. It's a very serious problem."
Close on legislation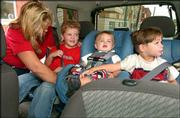 Recent efforts to pass tougher seat belt laws have not been successful.
"We got close this year, but not close enough," Brunk said. A majority of legislators, he said, viewed seat belt laws as an infringement on personal liberties.
"To me, it seems like a low-cost solution to a very significant problem," Brunk said. "But I'm in the minority."
Currently, state law requires children younger than 14 to wear seat belts while riding in a car or truck; those under 4 must ride in a safety seat.
People older than 14 riding in the front seat are required to wear seat belts. Those in the back seat are not.
In Kansas, seat belt infractions for people older than 14 are "secondary violations" meaning citations are not issued unless the vehicle is stopped for a separate violation.
In 2004, Kansas is ranked 46th in the nation in seat belt usage, according to the National Highway Traffic Safety Administration.
Other findings
Also cited in the Kansas Kids Count survey:
132 out of every 100,000 children, ages 1 through 14, died in 2001; 32 states fared better.
135 out of every 100,000 children between ages 15 and 19 died in accidents, homicides or suicide; 37 states fared better.
Between 1996 and 2001, Kansas showed improvement in five of the 10 categories. The state broke even in two.
Three categories -- the percent of teens who've dropped out of high school, teens who are neither in school nor working, and children living in poverty -- are in dispute.
According to Kids Count, the number of Kansas students who dropped out of high school went from 6 percent in 1996 to 8 percent in 2001.
"There is nothing in our data that shows those numbers going up," said Alexa Pochowski, assistant commissioner at the Kansas Department of Education. "Every indicator shows them going down."
Also, Kids Count numbers show a 20 percent improvement in the number of Kansas children living in poverty.
"I don't think that's right, either," Brunk said. "That number has been going up."
| | |
| --- | --- |
| 696,519 | Total children (under age 18) in Kansas in 2002 |
| 9% | Kansas children without health insurance in 2001 |
| 8,124 | Number of mothers under age 20 in 2002 |
| 23 | Teen births per 1,000 females, ages 15-17 |
| 1,854 | Kansans ages 15-19 in foster care in 2001 |
| 4% | Kansas children in extreme poverty (income below 50 percent of poverty level) in 2001 |
| 26% | Kansans 18-24 years old living in poverty in 2002 |
| 65 | Deaths by accident, homicide or suicide per 100,000 Kansans ages 15-19 in 2001 |
| 1,116 | Kansas juveniles detained, incarcerated or placed in residential facilities in 2001 |
Copyright 2018 The Lawrence Journal-World. All rights reserved. This material may not be published, broadcast, rewritten or redistributed. We strive to uphold our values for every story published.