Wichita — Thunderstorms across southern Kansas on Wednesday halted the fledgling 2004 winter wheat harvest as combines were ready to roll.
Before the rains arrived, the OK Co-op Grain Co. had gotten 600,000 bushels of wheat at its seven elevators in Kiowa, Hardtner, Hazelton and Corwin in south-central Kansas, the company said.
"I am real pleased with the quality. I just hope the bushels are there," said manager Alan Meyers.
The Kiowa area was spared the late spring freezes that damaged crops further north, but it still had its share of heat and drought, he said. Kiowa -- typically the first area where wheat is cut in Kansas -- began harvesting its first loads Saturday.
Wheat in Kansas has ripened unseasonably early, making it ready to harvest at the same time as wheat in northern Texas and Oklahoma. Partly because of an unusually large crop in Texas, there are not enough custom harvesters in Kiowa to cut all the wheat that is ready, Meyers said.
Brett Myers, executive vice president of the Kansas Association of Wheat Growers, said wheat quality would be spotty across the state.
"It is pretty early to tell," Myers said. "We knew some of the best wheat was going to be around south-central Kansas, and from what we are seeing the early wheat is quite a bit better. We expect it to get a lot worse as we go to the north and northwest."
Drought, disease and late frosts have all taken a toll. The majority of the Kansas wheat crop is now listed in poor to very poor condition, according to the Kansas Agricultural Statistics Service. It ranked wheat condition Tuesday as 26 percent very poor, 27 percent poor and 24 percent fair. Just 21 percent was in good condition, with 2 percent listed as excellent.
The agency said about 3 percent of the wheat was ripe in Kansas.
Elsewhere in the state, little wheat has been harvested, with rain Wednesday further delaying cutting.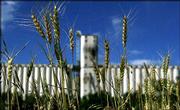 Farmers in Sumner County -- the state's biggest wheat producing area -- brought their first 7,000 bushels into the Farmers Co-op Grain Assn. elevator Tuesday, said manager Ken Fitzpatrick.
Those first loads are of average quality, running test weights of between 56 and 60 pounds per bushel, he said. Some showed disease damage.
It is too early to tell what quality or quantity the county will ultimately harvest, but Fitzpatrick expects it to be a below-average crop. A wet fall delayed planting and the area had a lot of disease damage in the spring.
"We are going to take what we can get, but it is not going to be great," he said.
Copyright 2018 The Associated Press. All rights reserved. This material may not be published, broadcast, rewritten or redistributed. We strive to uphold our values for every story published.