Beirut, Lebanon — Several OPEC members supported a Saudi plan Wednesday to raise the oil production ceiling by 10.6 percent in hopes of calming jittery markets and reducing crude prices from record heights.
At the same time, Saudi Arabia sought to ease fears that its vital oil facilities were threatened by terror attacks after a suspected al-Qaida assault during the weekend that killed 22 people at the country's oil hub of Khobar.
The Khobar attack -- which killed 22 people, mostly foreign oil workers -- stunned markets that already were nervous about stretched oil inventories and Middle East tensions.
U.S. crude prices shot up to record levels in response, but retreated by 4 percent Wednesday as Saudi Oil Minister Ali Naimi stressed that the kingdom was taking adequate security measures.
"I assure you that the kingdom and all OPEC members are concerned ... and we don't want high prices," he said in a speech at the Beirut offices of the U.N. Economic and Social Commission for Western Asia.
Representatives from the Organization of Petroleum Exporting Countries arriving in Beirut expressed a common desire to send a strong signal to oil markets that the group would boost production.
They gathered for joint talks ahead of a formal meeting today on OPEC's production policy.
Kuwait, Qatar and Nigeria backed the Saudi plan to raise OPEC's production ceiling to 26 million barrels -- an increase of 2.5 million barrels.
Under pressure from the United States and other major oil importers, Saudi Arabia already has boosted its output by 600,000 barrels a day, independently of OPEC.
The United Arab Emirates' oil minister announced his country would boost production by more than 400,000 barrels per day. As he arrived at Beirut airport, minister Obaid bin Saif al-Nasseri said the hike aimed "to calm the heat of prices."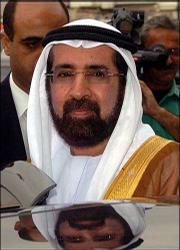 For the most part, such an increase would represent a return to a normal level of production for the United Arab Emirates after a lull in output due to maintenance at its oil facilities in April.
Kuwaiti Oil Minister Sheik Ahmed Fahd Al Ahmed Al Sabah said Kuwait would increase its output by 100,000 barrels later this month.
OPEC produces more than a third of the world's crude.
It already is pumping 2.3 million barrels above its current ceiling, and many of the group's members already are producing at close to their capacity.
OPEC president Purnomo Yusgiantoro of Indonesia said the cartel needed to assess each of its 11 members' ability to produce more.
"What we need is a volume that can give a really significant impact to oil prices," he said.
U.S. light crude oil for July delivery fell $2.37 to $39.96 per barrel Wednesday, a day after settling at $42.33 -- the highest price in the contract's 21-year history on the New York Mercantile Exchange.
A more radical proposal by Algeria for the Organization of Petroleum Exporting Countries to suspend its output ceiling altogether appeared to win no immediate backing.
Algeria's Oil Minister Chakib Khelil suggested that OPEC members temporarily "do away" with their individual production quotas, though he shook his head when asked if such a suspension would cause prices to fall.
"I don't think we will suspend the quotas," responded Kuwait's Sheik Ahmed. "I'm not a supporter of that idea, but we still support the idea of increasing to 26 million barrels."
Copyright 2018 The Associated Press. All rights reserved. This material may not be published, broadcast, rewritten or redistributed. We strive to uphold our values for every story published.