Baseball broke Tyler Blankenship's heart less than a week ago. Wednesday the sport induced nothing but smiles for the recent Free State graduate.
"It was heartbreaking," said Blankenship, who on Saturday suffered a 5-4 state championship game loss to Goddard High at Kansas University's Hoglund Ballpark.
While that disappointing memory couldn't be dissolved by Wednesday night, Blankenship's summer team's sweep of St. Joseph, Mo., did help.
"It feels good to get back out there," said Blankenship, whose American Legion Post 14 Raiders knocked off St. Joe's Post No. 11 11-0 and 10-3 at FSHS.
"It's kind of a new start with a new team and a new summer.
The Raiders might not be able to remember everything that happened in their home-opening double-header.
"We swang the bats pretty well," said Raiders coach Reggie Christiansen, a Kansas University assistant coach who took over for longtime Legion coach Carl Brooks this summer.
"We have kids from four different high schools and Juco programs, so it's going to take a little while to get everything going," continued Christiansen, whose squad improved to 3-1. "The goal for this team is to run things like a Division One program. I'm not saying that coach (Mike) Hill or coach (David) Petry doesn't do that.
"It's just that we're hoping to help those guys develop a step further and take the next step."
Few familiar faces for one Raider veteran meant there would be plenty of new steps this season, although his own appearance on the mound looked like a well-oiled antique.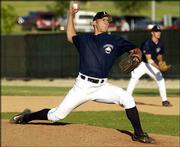 "It's pretty fun to be back, but there are a lot of big changes," said Aaron Madill, who pitched for Allen County Community College this year after graduating from Lawrence High.
The main similarity for Madill was that he seemed to still have his stuff that helped the Raiders snag the state championship last season.
The Raiders' ace threw a two-hit shutout, striking out eight in the opener.
"I pitched pretty well," Madill said. "A little rusty, but I hit most of my pitches."
So too did the Raiders, although St. Joe's miscues made things much easier.
In each contest, Lawrence plated three or more runs in the first inning to get things going.
From there a handful of Free State's players showed they were pretty fired up to be back on the field.
None more than sophomore Brett Lisher, who was 4-for-4 with four RBIs.
Blankenship also broke out of a short slump, smacking a triple in the third inning of Game 2, which scored two Raiders.
But even Blankenship admitted Wednesday's success couldn't erase Saturday's sour taste.
"I'm sure I won't forget what happened, but I'll be so busy with baseball I won't have too much time to think about it," Blankenship said, with a smile.
Lawrence Raiders 11, St. Joseph (Mo.) Post 11 0
St. Joeseph 000 00 -- 0 2 1
Raiders 452 0X -- 11 7 2
W--Aaron Madill. L--Mike Sandusky.
Raiders highlights: Brett Lisher 2-for-2, 1 run, 1 RBI; Taylor Martin 1-2, 2 runs, 3 RBI; Ryan Engle 2-for-4; Carl Lisher 3 runs, 2 RBI; Aaron Madill allowed 2 hits, while striking out 8.
Lawrence Raiders 10, St. Joseph (Mo.) Post 11 3
St. Joeseph 010 020 0 -- 3 6 4
Raiders 316 000 X -- 10 9 2
W--Spence Chaney. L--Mike Trachsel.
Raiders highlights: Brett Lisher 2-for-2 3 RBIs; Tyler Blankenship 3B, 2 RBIs; Ryan Engel 2-for-2, 2 runs.
Copyright 2018 The Lawrence Journal-World. All rights reserved. This material may not be published, broadcast, rewritten or redistributed. We strive to uphold our values for every story published.