El Segundo, Calif. — Shaquille O'Neal bills the NBA Finals as the Fantastic Four against the Wallace Guys and believes they'll be one of the most watched ever.
The Lakers' big man must not have watched the Eastern Conference finals, where every basket was cause for celebration.
Maybe Hollywood Glitz vs. Motown Sludge is a better description.
"We hope we have some remedies so the games are a little more enjoyable to watch for the fans," Lakers coach Phil Jackson said Wednesday.
Jackson apparently did watch the Eastern Conference finals -- at least Tuesday night's finale when the Pistons beat the Pacers 69-65 in the second-lowest-scoring playoff game since the 24-second shot clock was introduced in 1954.
"We're not as smothering a team as either one of those are," Jackson said.
"Ben said it best -- he doesn't care if it's 28-29 after four quarters as long as he's up by one," Lakers forward Karl Malone said, referring to Detroit's Ben Wallace.
The way the defensive-minded Pistons play, that just might happen.
"Anybody who makes it to the Finals deserves to be there," Malone said. "I don't care if we score in the 50s if we end up with four wins."
The Lakers and Pistons meet starting Sunday at Staples Center in a rematch of the 1988 and 1989 NBA Finals, with Los Angeles heavily favored in its quest for a fourth championship in five years.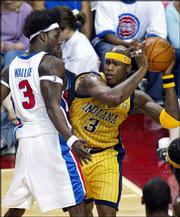 The Pistons have reached the Finals for the first time since 1990.
"We don't want to be content just with being in the Finals," Wallace said.
A title would be Jackson's 10th as a head coach, snapping a tie with former Boston Celtics coach Red Auerbach for the most championships won by a coach or manager in a major professional team sport.
"It's a great fortune to be going for something like this -- it's a matter of circumstance and luck," said the 58-year-old Jackson, whose contract expires at season's end, leaving his future up in the air.
With eight players including Malone, Kobe Bryant and Gary Payton eligible for free agency after the season, this could mark the end of an era for the Lakers.
"I haven't dwelt on that," Jackson said. "We're just playing for the moment."
No Eastern Conference team has won a championship since 1998 -- Jackson's last year as coach of the Chicago Bulls and Michael Jordan's final season with that team.
The Spurs won in 1999 and 2003, and the Lakers, under Jackson, prevailed from 2000-2002, going 12-3 in the Finals against the Pacers, 76ers and Nets. O'Neal was the Finals MVP each time, but those were the days when he was completely dominating the middle.
Now, it's a different matter with Malone, Bryant, Payton and several role players sharing the load.
"It's cool if we're winning," O'Neal said. "If we're not winning, everybody has a problem, including me."
The Pistons seem ill-equipped to deal with O'Neal -- at least with those who usually play. Neither Ben nor Rasheed Wallace matches up as well, perhaps, as seldom-used Elden Campbell, who played with the Lakers for 81/2 seasons before being traded in March 1999.
"There'll probably be a lot of Elden," O'Neal said. "If we do what we're supposed to do, I don't see any defense giving us trouble."
Copyright 2018 The Associated Press. All rights reserved. This material may not be published, broadcast, rewritten or redistributed. We strive to uphold our values for every story published.