Kufa, Iraq — American troops clashed with Shiite militants in this southern city Wednesday -- six days after a truce was supposed to have taken effect. At least five Iraqis were killed and more than 40 were wounded.
Another Iraqi was killed and three others were injured as militiamen loyal to radical cleric Muqtada al-Sadr exchanged fire with American soldiers in Baghdad's Sadr City.
No U.S. casualties were reported in either city.
In Kufa, several Iraqis said they were wounded when mortar rounds struck their neighborhood. They suspected the Shiite militiamen fired the rounds at the Americans but missed.
There have been daily clashes in Kufa since Shiite leaders announced an agreement May 27 by al-Sadr to end a standoff with the Americans here and in nearby Najaf.
Both sides agreed to leave the two cities, which contain some of the most sacred Shiite shrines in Iraq, and U.S. commanders promised to end "offensive operations" there. But U.S forces have insisted on their right to patrol Kufa -- a move the Shiite militia claims is a provocation.
Also in the capital, two car bombs killed at least six people and wounded 33, including five children. It was the third straight day of vehicle bombings in Baghdad, raising fears of more violence ahead of the June 30 transfer of power to Iraqis by the U.S. occupation authority.
West of Baghdad, Sunni Muslim insurgents fired mortars at a police station in a suburb of Fallujah, killing an Iraqi civilian and wounding a U.S. Marine and two other people.
Huge explosions shook the area around the U.S. base near the northern oil city of Kirkuk late Wednesday. Maj. Gen. Anwar Mohammed Amin, commander of the Iraqi Civil Defense Corps in the area, said the blasts came from an ammunition storage site.
Nearly two hours after the initial blast, nearby residents said explosions were continuing every 10 to 15 minutes.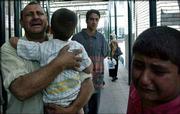 Also Wednesday, three Italian hostages were shown on a video broadcast weeks after they were kidnapped in Iraq. The footage on Al-Jazeera depicted the hostages sitting in chairs and appearing reasonably healthy.
They were among four Italian men working as private guards who were kidnapped April 12. Soon after, the captors executed one, Fabrizio Quattrocchi and issued a videotape of his killing.
Associated Press Television News obtained a video Wednesday showing a Turkish and an Egyptian truck driver also said to have been kidnapped in Iraq. The gunmen said the drivers were delivering supplies from Kuwait to Iraq and were seized because they were working for occupation forces.
Two Polish contractors and five other employees of a construction company were abducted Tuesday near Baghdad, but one of the Poles escaped, said Lt. Col. Robert Strzelecki, a Polish army spokesman.
In Kufa, skirmishes broke out as U.S. tanks and Humvees rolled into the city's center, and terrified civilians fled. Gunfire rattled as Shiite militiamen took positions near the mosque, where recent gunbattles have raged.
Copyright 2018 The Associated Press. All rights reserved. This material may not be published, broadcast, rewritten or redistributed. We strive to uphold our values for every story published.