City Commissioner Sue Hack discussed street construction, a citywide smoking ban and other topics Wednesday during an online chat with Journal-World readers.
"It certainly has been difficult for Lawrence drivers to get around, and hopefully the results will be worth the extra time," she said in response to a question about Sixth Street construction.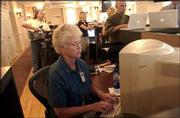 "As for making it easier on drivers, I know that the mayor (Mike Rundle) has asked for a staff report on the contractual agreements for work to make sure that we are getting projects finished in a timely manner."
On other topics, Hack:
Said her Business Retention Task Force was close to beginning a survey to assess how City Hall treats local businesses.
"Distribution should occur during the next two-three weeks, and after that we will be getting some help from students at KU to analyze the result," she said. "I am really looking forward to getting the survey going."




Restated her opposition to the smoking ban that begins July 1.
"I am concerned about our downtown and the effect this will have," she said. "We will work with owners and law enforcement to make sure that our downtown does not suffer ill from the ban."
Said commissioners had to balance the pay of police officers with concern for taxpayers' wallets.
"We are committed to providing good service to the citizens of Lawrence, but there continue to be increasing costs to those same citizens," Hack said. "That part doesn't go over as well."
Said she was still deciding whether to run for a second term in 2005.
"The decision as to whether I will run again has not been made, but I certainly have been thinking about it, and need to decide soon," she said.
Copyright 2018 The Lawrence Journal-World. All rights reserved. This material may not be published, broadcast, rewritten or redistributed. We strive to uphold our values for every story published.