Brian Bennett loves Alvamar Golf Course and it shows.
Bennett, a sophomore at Southwest Missouri State, and older brother Brad are partners in the Kansas Golf Assn. Fourball Championships this week at Alvamar.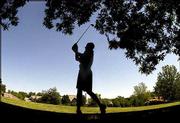 Last September, Brian had his finest collegiate outing by finishing in a fifth-place tie at the Kansas Invitational.
"He thinks he knows everything there is to know about this course now," Brad Bennett quipped. "I just try to get him to relax. Sometimes he gets a little worked up. We both do, but I just try to keep it fun so we both have a good time out there."
The Bennetts shot rounds of 64 and 68 Tuesday and Wednesday for a 132 total, good for a tie for first place.
The Bennett brothers competed in the Fourball Championships two years ago as well, losing in the second round of match play. The 32 low twosomes following the two 18-hole qualifying rounds Tuesday and Wednesday will begin match play today.
Being a mentor to his younger brother is nothing new. The two have played golf with their dad for as long as they can remember. Brad was the first to play at the collegiate level, competing at Drury University -- also located in Springfield, Mo. -- through the 2002-03 season.
"He got to play college golf before I did, so I got to see what it was like through him before I got there," Brian said. "He kind of showed me the way early. I can beat him now."
That's a bold statement for a younger brother to make, but it is validated by statistics.
Brad Bennett finished his senior season at Drury with a 78.8 strokes-per-round average. But Brian, In his sophomore campaign with the Bears, recorded three top-10 finishes, seven top-20 finishes and led the team with a 75.7-stroke average.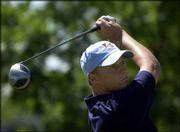 While the two argue just like all siblings do, age differential does not matter when they're on the course. They see each other as peers who can help each other play as well as possible.
"He tries to play a little agressive off the tee once in awhile, and I try to get him not to do that," Brian said. "We get along pretty well most of the time."
"It's easier with a guy like him because we both know each other and we know each other's games well enough that we can rely on each other when we need to."
Still, there are some mild arguments they cannot avoid.
"We can both hit the same exact shot and it can be 40 yards right, and we'll have to argue whose shot went farther right," Brad said. "It's just a brotherly thing."
Copyright 2018 The Lawrence Journal-World. All rights reserved. This material may not be published, broadcast, rewritten or redistributed. We strive to uphold our values for every story published.