By now, hundreds of Lawrence residents have learned their homeowner's insurance won't cover the damage caused by July 2 and July 24 downpours that flooded low-lying basements across the city.
What they may not know is that if they filed a claim there's a good chance their insurance company won't renew their policy.
And because their insurance company will enter their claims in an industry database, they could have a hard time finding another company willing to insure them.
"Based on the number of calls I'm getting, I'd have to say a high percentage of companies are nonrenewing," said Chris Chapin, an agent at Stephens Insurance, 2711 W. Sixth St.
"Once you've been dropped, there may not be anybody who'll pick you up," Chapin said. "Water is a major issue. Nobody wants to mess with it because of the mold issue."
In recent years, insurance companies in California and Texas have paid millions of dollars in claims involving mold growth caused by moisture trapped in carpets, carpet pads, trim and Sheetrock.
Nonrenewal not illegal
It's unclear how many policies have not been -- or will not be -- renewed in Kansas, but Kansas Insurance Department spokeswoman Charlene Bailey said the office had detected an increase in nonrenewal calls from homeowners.
"I don't have an exact number because when we tell them that it's not illegal for the company to nonrenew, they say, 'Oh? OK, goodbye," Bailey said. "We don't log those kinds of calls because they're not really complaints; they're inquiries and we get those all the time.
"But, yes, there has been a noticeable increase in the number of calls about nonrenewal."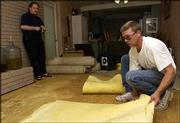 In Kansas, insurance companies are free to not renew policies without cause.
Joe Rawley, who lives near Harvard Road and Monterey Way, filed a claim with his insurance agent after the July 2 downpour.
"It rained so hard -- five inches in an hour and a half -- my sump pump couldn't keep up," he said. "The carpet got wet and had to be replaced."
Rawley's homeowner's policy covered sump pump failure so he figured it made sense to file a claim. But when his real estate agent found out about the claim he urged Rawley to cancel it. So he did.
"We were in the process of selling our home, and he said it could cause all kinds of problems. We'd be shooting ourselves in the foot," said Rawley, who lives near Harvard Road and Monterey Way.
The home has since sold. Rawley said he and the Realtor made sure the new owners knew about the damage.
"That was not a normal rain," he said.
Agents' dilemma
Chapin said the nonrenewals had created a moral dilemma for insurance agents.
"I walk a very thin line," he said. "I get paid by the insurance companies. I represent them. But at the same time, I absolutely have to do what's in the best interest of my customers."
Chapin said homeowners should call their agent before they call their company's toll-free number to report a claim.
Information gathered during the toll-free call, he said, eventually will reach the database. Companies will consult the database before deciding whether to extend coverage.
The fact the claim was denied or that damage was minimal won't matter.
"What they're concerned about is whether water got in the house," Chapin said.
So, what should a homeowner do?
"The best advice is to call your agent," Chapin said.
Chapin says he tells his customers to "go ahead and do what you have to do to get (water damage) cleaned up right. It won't be cheap, but you sure don't want to let it go and then five years from now, end up having to tear the whole house apart to get rid of the mold."
Also, he said, there's probably no point in filing a homeowner's claim if the damage involved is what's called "rising water."
"If water hits the ground and comes into your house in any way other than a sump pump, it's not covered," he said.
FAIR plan
Homeowners whose polices are not renewed and who are turned down by at least three other insurance companies are eligible for coverage through the Kansas FAIR Plan.
In Kansas, insurance companies doing business in the state are required to participate in a high-risk pool for people who cannot get insurance anywhere else.
"It's sort of a safety net," said Bailey at the Insurance Department. "But approval is not guaranteed, and the premiums are higher and the coverage tends not to be as comprehensive."
After the July 24 rain -- six inches in six hours -- Adam Crafter had water in his basement.
"The ground was saturated," he said. "So I had some seepage. I think everybody did."
Crafter, who's allergic to mold, had the carpet removed by a professional restoration company. He didn't call his insurance company.
"I'm probably in the minority, but I'm one of those people who believes that insurance is for when something horrible happens, like a giant tree rolling down a hill and smashing into your house," he said. "It's not for the piddly stuff."
Crafter said he'd been told the repairs would cost less than $1,000.
"Oh, well," he said, "the carpet needed to be replaced anyway."
Copyright 2018 The Lawrence Journal-World. All rights reserved. This material may not be published, broadcast, rewritten or redistributed. We strive to uphold our values for every story published.