Emporia — As it turns out, tonight's Kansas Shrine Bowl is going to be Dain Dillingham's farewell football game, after all.
Dillingham, a Free State High graduate, had signed in February to play football at Drake University with plans to join the Bulldog basketball team, too. It seemed a perfect choice for a guy that was entertaining Division One offers in both sports and couldn't seem to choose which one he wanted to play.
Well, he chose now. He's going to scrap football and focus solely on basketball at Drake this year.
"I decided to go ahead and try not to kill myself," Dillingham quipped.
Dillingham had said all along during his recruitment that basketball was his favorite sport, even when schools like Minnesota and Kansas University were offering football scholarships to him. After pondering basketball opportunities from colleges like the Ivy League's Cornell, Dillingham chose Drake, partly because the Des Moines, Iowa, school didn't force him to choose which sport he wanted to play.
Along with his decorated football days as a Firebird, Dillingham averaged 15.1 points a game for the 15-7 FSHS boys basketball team.
In the end, Dillingham figured it out on his own. As a result, tonight's Shrine Bowl showdown (7 p.m. at Welch Stadium in Emporia) will have a little added significance to him.
It likely will be the last time he steps on a football field.
"This will be it," Dillingham said. "The last hurrah."
Dillingham certainly was one of the more exciting football players to come through Free State. In his two years as a wide receiver, Dillingham caught 70 passes for 1,297 yards and 10 touchdowns. His receptions often were of the highlight-reel variety thanks to his explosive leaping ability and sticky hands.
He'll have the state's biggest stage to show off his skills one last time tonight. As always, a large crowd is expected for the 31st annual all-star football game, which features the state's top talents from Class 6A to eight-man schools. Local players include Dillingham and Baldwin's Micah Mason. Lawrence High's Josh Lawrence was selected but is unable to play because of an injury.
Dillingham will get plenty of chances at wide receiver, catching passes from Silver Lake quarterback Kyle Kruger, a two-time All-State selection that's signed with Washburn. Other East players of interest include Silver Lake's Scott Haverkamp, a KU signee, as well as Shawnee Mission Northwest running back Ryan Torain and Olathe East defensive back Anthony Parks, both Butler County signees that could be on the Division One radar in a couple of years.
Dillingham knows all about that radar, but after tonight, he's going to use the Shrine Bowl as a medium to kindly say goodbye.
"This gives everybody a chance to showcase their talent," he said. "We're not only representing ourselves, but our teams and our leagues and our respective class."
Or, in Dillingham's case, a respectable career.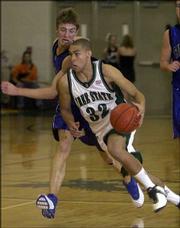 Copyright 2018 The Lawrence Journal-World. All rights reserved. This material may not be published, broadcast, rewritten or redistributed. We strive to uphold our values for every story published.