CHANUTE — Even more impressive than the way the Lawrence Raiders run-ruled Arkansas City in their opening game of the Class AAA American Legion baseball state tournament was Lawrence Post 14's absence of swagger afterwards.
"We came out here with the one goal of winning a state championship. We didn't do that today, so all we really accomplished was getting one game closer to that goal," said Lawrence third baseman Tyler Blankenship after the Raiders' 13-2 seven-inning victory Friday at Chanute's Katy Park.
While Blankenship, Aaron Madill and Taylor Martin helped the Raiders snag the state title last summer for the first time in several seasons, Raiders coach Reggie Christiansen is quick to remind everyone that this team is not that team.
"Only three kids are back from that team. It's not like the New York Yankees where everyone's back and the heat is on. It's really not an issue," Christiansen said, addressing any pressure his 35-15 squad might feel heading into today's 5 p.m. showdown with Hays, a 7-5 winner over Hutchinson.
"If that's what people are gearing up for, that's fine. That's putting something in someone else's head. We don't look at it like that. We're not coming down here to defend the state championship, we're coming down here to play baseball. If we do that, then we'll have a chance."
Judging just by the Raiders' play Friday, Christiansen's club has more than a passing chance at repeating as champs.
Lawrence dominated Ark City from start to finish. The Raiders showed they weren't afraid to be aggressive early on, scoring seven runs through the first three innings behind a handful of stolen bases and sacrifice bunts.
Pitcher Tyson Corley controlled the game with a masterful performance on the mound, throwing a two-hitter with four strikeouts through six innings.
The Raiders delivered the final blow with four more runs in the seventh.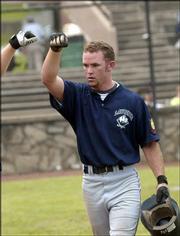 "We were hungry today," said Raider Ryan Engel, who accounted for four of the Raiders' 16 hits, while adding three RBI's and four runs scored -- including the contest's first when he slid home on a delayed double steal and Ark City's catcher dropped the ball.
From there the Raiders racked up six more runs before the fourth inning.
Taylor Martin drilled a grounder into the dirt that the Ark City first baseman dropped, allowing two more runs to score in the second.
Engel brought in two more Raiders with his third straight single in the third for a 7-0 lead.
"We're loose," Christiansen said. "That was our 50th game, but it's one of those situations where it's really just another game for us. People try to make it into a big deal. Yeah, it's the state tournament. Yeah, if you lose two, you're done.
"But we've played enough where these kids understand what we're trying to do. If we win, we win. If we don't, we don't. I think that's the way you have to put it. The team that's loose, the team that's out here enjoying the opportunity is going to be the team that wins this thing."
Lawrence 13, Arkansas City 2
Lawrence Raiders Post 14 223 020 4 -- 13 16 1
Ark City Post 18 000 000 2 -- 2 4 3
W--Tyson Corley (6-2). L--Brandon May.
2B--Lawrence: Jake Hoover, Taylor Martin; Ark City: Erik Swope.
Raiders highlights: Corley pitched 2-hit shutout with four strikeouts, 2-for-4, 2 RBIs; Ryan Engel 4-for-4, 4 runs, 3 RBIs; Jake Hoover 4-for-5, 2 RBIs, run; Tyler Blankenship 2-for-3, run; Taylor Martin 2-for-3, RBI.
Copyright 2018 The Lawrence Journal-World. All rights reserved. This material may not be published, broadcast, rewritten or redistributed. We strive to uphold our values for every story published.