Chicago — Aramis Ramirez missed 11 games earlier this month with a sore groin and is still running the bases at less than full speed.
That's OK, though, when all he needs is his home run trot.
"Sometimes you don't have to run to play the game," Ramirez said Friday after hitting three homers to lead the Chicago Cubs to a 10-7 comeback win over the slumping Philadelphia Phillies.
"I'm not 100 percent, but I can play and I proved today I can. It's a good feeling. You see the ball well and you know you can do everything at the plate."
City officials gave the go-ahead to play the game after the Cubs installed safety nets to ensure fans would not be hit by any crumbling debris that has fallen three times this season at 90-year-old Wrigley Field.
The only things flying around and out of the old ballpark were homers on a day when a relatively calm wind was hardly a factor.
Ramirez had the second three-homer game of his career, missing a chance for a fourth when he was left in the on-deck circle in the eighth.
The Phillies' Bobby Abreu and Pat Burrell homered twice each off Mark Prior, and Derrek Lee also went deep for Chicago.
"We scored seven runs. We think that can hold the game, but things happen," Abreu said.
The Cubs trailed 6-3 when Ramirez led off the sixth with his second homer off Eric Milton, who pitched eight innings of no-hit ball five days ago against the Cubs. The homer ignited the Cubs' rally and six of the next seven batters singled during a five-run inning.
"A couple of hits here or there, and the next thing you know it's a tie game and then things just kind of unfolded," Burrell said. "What else can you do but get ready and come back tomorrow?"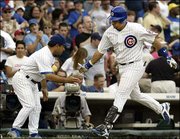 Ramirez hit solo homers off Milton in the second and sixth innings and another bases-empty shot off Roberto Hernandez in the seventh.
Braves 3, Mets 1
Atlanta -- Marcus Giles had three hits and drove in the go-ahead run. Hampton (7-8) pitched four-hit ball over seven innings to improve to 5-0 in July, joining fellow starters Russ Ortiz (5-0) and Jaret Wright (3-0) with unbeaten records in the month. Andruw Jones added two hits.
Expos 9, Marlins 0
Miami -- Livan Hernandez pitched a three-hitter, and Brad Wilkerson and Nick Johnson homered to help the Montreal Expos spoil Josh Beckett's third return from the disabled list.
Brewers 5, Pirates 0
Milwaukee -- Doug Davis allowed four hits in seven innings, and Brady Clark hit a two-run double. Davis (10-9) snapped a personal three-game losing streak.
Rockies 4, D-backs 1
Denver -- Randy Johnson allowed four runs and struck out six. Jason Jennings (10-8) allowed one run in seven innings, and Matt Holliday hit a two-run triple.
Astros 2, Reds 2,
6 inn., suspended, rain
Cincinnati-- Houston's Jeff Bagwell singled home the tying run moments before a third rain delay resulted in a suspended game in the sixth inning. The game will be picked up today.
Cardinals 7, Giants 4
San Francisco -- Barry Bonds hit his 685th homer, but Jim Edmonds had a two-run triple during the St. Louis Cardinals' six-run sixth inning. Bonds' two-run shot into McCovey Cove was his 27th of the season, and his second in two days.
Dodgers 12, Padres 3
San Diego-- Milton Bradley homered twice, and Jeff Weaver pitched eight innings of four-hit ball.
Copyright 2018 The Associated Press. All rights reserved. This material may not be published, broadcast, rewritten or redistributed. We strive to uphold our values for every story published.