Montreal — Eric Valent got a rare start for the Mets and hit his way into New York's record books.
Valent became the eighth player in Mets history to hit for the cycle, and Mike Cameron homered twice to lead New York to a 10-1 victory over the Montreal Expos on Thursday before a crowd of 20,042 -- the second-biggest at Olympic Stadium this season.
Valent went 4-for-4 with a walk, three RBIs and three runs scored in becoming the fourth player in the majors this season to hit a single, double, triple and home run in a game.
"It's cool," Valent said. "It's tough to do. You need a lot of luck. It's a nice thing you can say when you're done playing."
Valent played left field in place of Cliff Floyd, who got the day off. He singled following Cameron's two-run homer off Rocky Biddle in the second, and doubled after Cameron's solo shot put the Mets up 5-0 in the third.
He tied his career high for hits with a two-run homer off a speaker against Sun-Woo Kim in the fifth. Valent's RBI triple in the seventh off Roy Corcoran completed the Mets' first cycle since John Olerud did it on Sept. 11, 1997 -- also against the Expos.
"Eric Valent had a whale of a day," Mets manager Art Howe said. "He hit for the cycle. Not too many people can say that they've done that."
Al Leiter (7-3) allowed three hits and one run in six innings, improving to 6-1 in his last 10 starts.
Marlins 10, Phillies 1
Miami -- Alex Gonzalez hit the first grand slam of his career, Dontrelle Willis pitched seven innings, and Florida swept the Phillies at home for the fourth time in a row. It was the Phillies' 14th consecutive loss in Miami, including seven this year. Most of the games have been close, but this time seven consecutive Marlins scored in the third inning against Paul Abbott (1-5), capped by Gonzalez's 15th homer for an 8-0 lead. The Marlins are 11-1 against the Phillies this season and have won 23 of the past 26 meetings.
Cubs 4, Brewers 0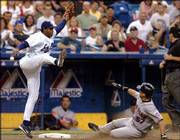 Milwaukee -- Carlos Zambrano gave up four hits over eight shutout innings, and Sammy Sosa homered in the Cubs victory. Zambrano (10-6) walked two and struck out eight in snapping a personal three-game losing skid. He needed 31 pitches to get out of the first inning, but then allowed just two more hits.
In their last 10 games, including eight losses, the Brewers are just 4-for-73 with runners at second or third. The Cubs won three of four games in the series that drew a Miller Park-record 167,109 fans, the majority of them rooting for Chicago.
Braves 3, Pirates 2
Pittsburgh -- Rafael Furcal made up for two errors with a go-ahead single during Atlanta's two-run, ninth-inning rally against closer Jose Mesa, and the Braves came back to beat the Pirates. The Braves won their third in the four-game series, sixth in seven games overall -- and 15th in 20.
D'backs 6, Astros 4
Houston -- Lance Cormier won the first game of his brief major-league career, and Shea Hillenbrand hit a two-run homer to lead Arizona to just its second win since the All-Star break. Cormier (1-2), making his third start in the big leagues, lasted six innings and allowed three runs on eight hits with five strikeouts.
Dodgers 3, Rockies 2
Denver-- David Ross and Jayson Werth homered and Wilson Alvarez pitched five solid innings for Los Angeles.
Alvarez (6-3) allowed two runs and four hits to win his third straight decision, combining with four relievers on the four-hitter.
Padres 7, Giants 4
San Diego -- Phil Nevin singled in the go-ahead run in the sixth inning and the San Diego Padres overcame Barry Bonds' 684th career homer for the victory over the San Francisco Giants.
The Padres won three in the four-game series with San Francisco.
Copyright 2018 The Associated Press. All rights reserved. This material may not be published, broadcast, rewritten or redistributed. We strive to uphold our values for every story published.