Like most people on holiday, Pfc. Brian Fuhr is enjoying his vacation. But unlike most, he had to travel 6,850 miles for the fun to start.
Fuhr is on a two-week leave from his duties in Iraq. His unit, the 407th Quartermaster detachment out of Sioux City, Iowa, is stationed at Logistical Support Area Anaconda, a base 45 minutes north of Baghdad.
"It's been nice to have a little time off to see my family and enjoy the food," Fuhr said. "Everything besides cafeteria food tastes good right now."
Fuhr, 27, has been traveling and visiting his parents in Missouri and seeing friends in Lawrence. He lived in Lawrence for seven years and worked in the Journal-World's pressroom.
"I've missed Lawrence," he said.
Fuhr works at a water treatment unit at the base in Iraq, which he said provided 1.75 million gallons of water a day to the base and surrounding areas.
He joined the Army Reserves after the Sept. 11, 2001, terrorist attacks. He was called up for active duty in November 2003.
After training at bases in the United States, Fuhr spent 13 weeks in Kuwait and was transferred to LSA Anaconda in April. When he returns from leave Saturday, he said he would probably be in Iraq until February 2005.
Fuhr said he thought the situation in the country was gradually improving.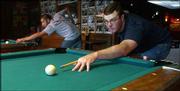 "All the Iraqis I've met have been friendly," he said. "A lot of them have the same feelings we do, wondering when things will get back to normal."
And Fuhr said he had noticed a shift in the country since the turnover of sovereignty in late June.
"I think the attitude of the local government has changed," he said. "It started to look more like a functioning government that's taking care of the business of governing.
"The Iraqi National Guard is looking more professional than when I first arrived. They're getting a lot of training, and there are a lot more on the streets."
Despite the improvements, there are still dangers in the country.
"Our base gets shelled regularly, and there have been incidents of drive-by shootings," Fuhr said. "But there have been no mass groups trying to break through the fence or anything like that."
Copyright 2018 The Lawrence Journal-World. All rights reserved. This material may not be published, broadcast, rewritten or redistributed. We strive to uphold our values for every story published.