Lean beef top-round steak, marinated and grilled, can be a flavorful low-fat choice for weeknight family meals.
Before you grill, this recipe suggests you marinate the steak in a mixture of fresh ginger, lime juice and garlic. Besides giving the steak a tangy citrus flavor, the fresh ginger and lime juice help tenderize it.
Beef specialists consider top-round steak is most flavorful and juicy when cooked to medium-rare doneness or 145 degrees. Remember: An instant-read thermometer inserted horizontally into the steak is the most accurate way to determine doneness.
Serve the steak with grilled fruits and-or vegetables, or a mixed greens salad and crusty bread.
Sizzling Summer Steak
----
1/2 cup fresh lime juice
3 tablespoons minced green onions
3 tablespoons water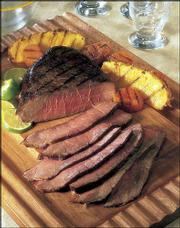 2 tablespoons vegetable oil
1 tablespoon minced fresh ginger (see note)
3 large garlic cloves, minced
1/2 teaspoon salt
1 beef top-round steak, cut 1 1/2 inches thick (about 2 pounds)
In small bowl, combine marinade ingredients (all ingredients except beef). Place beef steak and marinade in food-safe plastic bag; turn to coat. Close bag securely and marinate in refrigerator 6 to 8 hours or overnight; turn occasionally.
Remove steak from marinade; discard marinade. Place steak on grid over medium-hot, ash-covered coals. Grill, covered, from 25 to 28 minutes to 140 degrees for medium-rare doneness; turn occasionally. Transfer to carving board. Let stand 5 minutes. Temperature will continue to rise 5 degrees to reach 145 degrees for medium-rare. Carve steak crosswise into thin slices.
Makes 6 to 8 servings.
Note: Do not substitute powdered ginger for the fresh; it does not have the natural tenderizing enzyme found in fresh ginger.
Nutritional information per serving: 239 calories, 36 grams protein, 1 gram carbohydrate, 9 grams fat, 167 milligrams sodium, 95 milligrams cholesterol.
Recipe developed by the Cattlemen's Beef Board and the National Cattlemen's Beef Assn.
Copyright 2018 The Associated Press. All rights reserved. This material may not be published, broadcast, rewritten or redistributed. We strive to uphold our values for every story published.