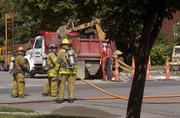 Lawrence police alerted residents in an area just northeast of Kansas University's campus this morning about a gas line break in their neighborhood.
Authorities were called in about 10:30 a.m. to investigate the source of the natural gas line break, which is in the vicinity of 10th and Kentucky streets.
Lawrence-Douglas County Fire & Medical personnel stood by as the line was shut off by Aquilla, the city's natural gas utility.
Firefighters said the line break was caused by a backhoe working in the area.
Copyright 2018 The Lawrence Journal-World. All rights reserved. This material may not be published, broadcast, rewritten or redistributed. We strive to uphold our values for every story published.