The FBI has questioned at least two members of a Lawrence anarchist group since Monday, and has confirmed agents were here checking out a tip that a group planned to firebomb media vehicles at the Democratic National Convention in Boston.
But members of the anarchist group, who say they don't have any members going to the convention, remain skeptical of the FBI's motives for paying visits to their homes, workplaces and families. They said they feared the government was seizing an opportunity to investigate or harass them for their anti-capitalist, anti-war views.
"It just seems like it's information gathering. It's intelligence gathering," said group member David Strano. "It's probably useful to them for something."
Bob Herndon, an FBI spokesman in Kansas City, Mo., said the agents were merely trying to find out whether there was any truth to a tip received by the Joint Terrorism Task Force, which is providing security for the convention.
"They had received some information that warranted interviews not only in Lawrence but in different parts of the United States," Herndon said. "What we're investigating are specific threats. We're not investigating ideas per se."
Herndon said he couldn't elaborate on the threats because of an ongoing investigation.
FBI agents first visited Lawrence and neighboring cities Friday, but anarchists said the agents didn't succeed in directly interviewing any members of the group. They visited the homes of some group members' parents and neighbors. No members of the group reported contact with the FBI Saturday or Sunday, Strano said.
Herndon said he thought the agents had finished their investigation in Lawrence on Friday.
"We conducted interviews last week, put together a report and sent it off to the Joint Terrorism Task Force in Boston," Herndon said. "They have not asked us to do anything else."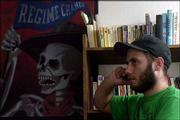 But Strano said that Monday, agents paid visits to two Lawrence residents affiliated with the group and questioned them briefly before being turned away.
"It seems like all the pages in the report will be, 'Nobody knows anything,'" Strano said. "No one spoke to them about anything."
Herndon said he couldn't confirm that agents came back to Lawrence on Monday but said it was possible they decided to make follow-up visits.
One of the people questioned by the FBI declined to comment about the incident. The other couldn't be reached for comment.
Meanwhile, several national media outlets are following the story. The radio-news program Democracy Now! covered the topic on its Tuesday broadcast, and a reporter from Congressional Quarterly is trying to contact the local anarchists.
Strano said he'd also spoken by phone with a reporter from Newsweek magazine.
Copyright 2018 The Lawrence Journal-World. All rights reserved. This material may not be published, broadcast, rewritten or redistributed. We strive to uphold our values for every story published.